Posted by: Anthony Morrow on August 29, 2008 at 2:00 pm

Marshall Crenshaw, Marshall Crenshaw (Warner Bros., 1982)
In 1982, no one was looking for the kind of music Detroiter-turned-New Yorker Marshall Crenshaw was making. An ode to Buddy Holly mixed with power pop, Crenshaw's self-titled debut is like an Americanized, nerdier version of Elvis Costello. Even if being the domestic Costello was a niche market, Crenshaw's simple pop music structure was still catchy and nostalgic enough to land the single "Someday, Someway" on the Top 40 charts. And that's just one highlight on a record of many, including …Continue Reading >>
Posted by: Ryan Allen on August 29, 2008 at 1:00 pm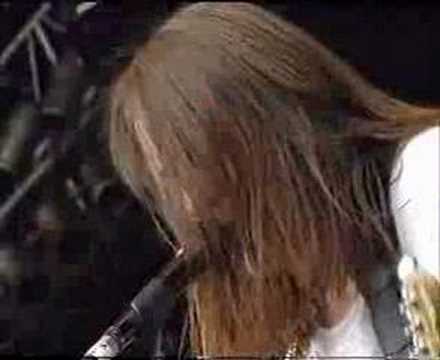 The Posies, "Solar Sister" (Live @ Phoenix Festival, 1994)
We're not sure, but this might have been as big as power pop ever got (besides, maybe, those dudes from Fountains of Wayne writing "That Thing You Do"). This clip — from a 1994 performance at something called The Phoenix Festival, not in Arizona, mind you, but in the UK — shows bubble-grunge workhorses the Posies totally ripping one out in front of a crowd of curious Brits. Chances are, they were probably playing around the same time as Menswear or Cast, so forgive them if attendance during their set seems …Continue Reading >>
Posted by: Ryan Allen on August 29, 2008 at 11:00 am
Matthew Sweet, Sunshine Lies (Shout Factory, 2008)
MP3: "Time Machine"
Synonymous with the phrase "power pop," Matthew Sweet is back with album number ten and proof that he hasn't yet exhausted his supply of hook-filled, guitar driven tunes. Sunshine Lies is one of Sweet's most consistent records since his 1990 breakthrough Girlfriend, which featured his best-known songs "I've Been Waiting" and the title track. Sweet's love of 60's and 70's rock has been apparent throughout his career, but particularly on this album. Somebody who has obsessively worn out multiple copies of Mr. Tambourine Man and Who's Next undoubtedly wrote songs like "Byrdgirl" and "Sunrise Eyes." Despite the strength of much of the material, lyrically Sweet comes across a tad sophomoric on some of the less consequential tracks. On "Room To Rock" he repeatedly declares, "I need a room to rock in" which, for a man in his 40's with an accomplished music career, seems like something he should have figured out by now via a spare room in his house or by renting some practice space. But Sweet's "forever young" attitude is part of his appeal. Sunshine Lies will be well appreciated by all those with a love of catchy rock, a basic grasp of power chords and their own room in which to rock it all out. — Laura Witkowski
Posted by: Ryan Allen on August 29, 2008 at 9:00 am
Sort of by accident, today has become "Power Pop Day" here at Detour. Now, we realize some of you might be muttering, "What the hell shit is power pop? Where is my latest link to the new hot shit Girl Talk remix?" To that we say, "Relax, future iTunes DJ! We'll be back to regularly scheduled content next week." Or, we could just not say anything at all, and link to the Wiki entry on the genre. We could also just tell you to go re-listen to all your New Pornographers records. Or, even better still, we could point ya'll in the direction of to two lists featuring all your favorite indie rockers naming off their choice power pop jams, courtesy of Magnet Magazine (thanks bros!). Then you could easily do a search on your favorite torrent and grab whatever peaks your interest. Because quite honestly, it would take up way too much space to name bands, explain the genre, and go through some kind of long and involved oral history that has honestly been …Continue Reading >>
Posted by: Ryan Allen on August 27, 2008 at 11:00 am

Lackthereof, Your Anchor (Barsuk, 2008)

MP3: "Fire Trial"
The first thing you should know about Lackthereof: it's Danny Seim, the drummer from Menomena. That's probably enough to get some of you interested.
But unless "Rotten Hell" was your one and only favorite song from Menomena's critically acclaimed Friend and Foe, you're going to have to judge Lackthereof on its own laurels. On Your Anchor, Seim solo delivers none of the herky-jerky experimentation that Menomena is known for, offering instead a batch of gloomy, sedate, and (truth be told) kind of creepy odes to losing at love, whether by chance or by choice. Seim plays all the instruments on the album and does a particularly masterful job with his touches of guitar over looping beats. The slide guitar interludes of "Fire Trial" sound like they're coming from a warped 1970s country record playing in the corner of the room — you can almost see the turntable needle raising and falling on the misshapen vinyl disc. "Last November" is a dark highway drama that includes the album's catchiest chorus and its most representative lyric ("As always, I'll assure you, It's the last time that I'll leave you. Until next week, if not sooner, I'll at least wait, till after dinner."). Not much of an anchor, huh? Dark, dreamy, and disturbing, this is music just begging to be used in an upcoming David Lynch film. — Scotter Bragg
Posted by: Anthony Morrow on August 27, 2008 at 9:00 am

Enter to win 2 tix to the Post-Hamtramck Festival Party at The Belmont on Monday, September 1st. Performing live: Deastro, Hawnay Troof, Sex Ghost and Breezee One. Oh yeah, your first drink is on Melody courtesy of FiveThreeDialTone, Summer Smash and Big Wave Dave. CLICK HERE for your chance to win!
Posted by: Anthony Morrow on August 26, 2008 at 6:49 pm

Enter to win 2 tix to Squeeze this Friday at the Royal Oak Music Theatre. CLICK HERE for your chance to win!
Posted by: Johnny Loftus on August 26, 2008 at 10:56 am


Donna Summer, "Love to Love You" (Groovy, 1975)
That guy behind Donna really loves this song. If there had been ringtones in 1975, his would have been "Love to Love You." He had a picture of Donna Summer in his locker at the gym. He ate health food with a Donna Summer impersonator; the license plate on his Gremlin read "MORODER." His hop-legged enthusiasm can't help his heroine's atrocious lip-synching skills. That's OK. This is still one of the hottest songs ever. Best bit: around 1:50, when there's a breakdown and it seems like you might actually be getting it on with Donna Summer. Now you know how that dude behind her felt. — Johnny Loftus
Posted by: Ryan Allen on August 25, 2008 at 2:00 pm

Rob Kenna, front and center.
As kind of an unspoken rule, we hardly ever write in first person on the Detour Website. But when something sad and heartbreaking occurs, sometimes it's appropriate to toss the rules out of the window and write straight from the heart.
So it is with great sadness that we report last week's passing of local musician Rob Kenna. Kenna was the lead singer and songwriter for the Farewells — an Ypsilanti-and-Detroit-based pop group that was just starting to get people talking around town. Formed in 2003 by Kenna, the band evolved from a recording project — one that resulted in 2004′s underrated pop gem Suspicious Tones — into a full-fledged live entity, featuring bassist Nick White and drummer Larry Johnson.
A few of us here at Detour knew Rob; some better than others. But when I think of Rob, I am instantly transported back to early 2001 and 2002, when I frequented a indie-rock dance club in Windsor, Ontario called the Loop. Before Detroit kids were hip to how much fun dancing to Belle and Sebastian and Blur was, the Loop was essentially the only place my friends and I knew of where we could enjoy some drinks and the music that we liked without the bother or the pretense of trying to look or act cool in the process. Every Friday, we would make our way to the bar, knowing full well that we'd see some of the same characters week after week, and most definitely lose our shit to the Superfriendz' "10 Lbs." before the lights came flashing on, exposing our sweaty torsos and foreheads in all their glory.
One such character that was always in attendance was Rob Kenna, perched comfortably behind the DJ booth, helping the resident disc-spinner pick track after track of awesome music that would have us frequently dragging each other on to the dance floor — even if we were too awkward and shy to get out there in the first place. Besides supplying the right jams at the right time, Rob always delivered when it came to massive hugs and a genuinely enthusiastic "It's great to see you again, man!" kind of greeting that made you feel like that hour-long wait to get through the Windsor tunnel was totally worth it. His extremely amiable and positive attitude was the kind of stuff that would exhilarate you. In fact, when I first began encountering Rob, his polite and jovial manner — not to mention the fact that I only saw him in Windsor — lead me to assume that he must, of course, be Canadian. I have to admit that I was quite shocked when Rob revealed to me that he was a fellow Michigander; he just seemed way too nice to be from the States. And when it was time for everybody to get the hell out of the bar, and proceed down the street to eat the world's greasiest pizza, Rob was one of the few that you actually sought out to make sure you said goodbye to. A true testament to a truly great dude.
It goes without saying that Rob Kenna will truly be missed…but, one of the great things about music is that it always lives on, even after we are gone. So with that, we urge you to listen to the Farewells, and put a little piece of Rob in your heart. Rest in peace, Rob. — Ryan Allen
Posted by: Ryan Allen on August 25, 2008 at 12:00 pm

Juliana Hatfield, How To Walk Away (Ye Olde Records, 2008)
MP3: "Shining On"
It's hard to believe Juliana Hatfield, the quintessential girl-next-door-with-a-guitar, is releasing her 10th studio album. Was it really 15 years ago that singing about her love/hate relationship with her sister made her an alt-rock darling? Indeed. How To Walk Away purportedly finds "Hatfield singing in top form." True, her voice is as distinctively plaintive as ever, but the songs themselves are a bit problematic. The first two tracks, up-tempo yet wistful pop tunes, show Hatfield's still got a couple of winners. Unfortunately, both unintentionally speak volumes about the rest of the record. "I finally wised up, but the fact remains, I stayed too long," she tells us in the opener. Indeed, like a houseguest who can't take a hint, it seems she has. In "Shining On" she sings, "Every setting sun goes shining on… On and on and on." It's like she's singing about her own record. After the front-loaded punch, the rest of the album is painfully dull and uninspired. Lyrics are often clichéd and trite. "You're so alone, you're so alone. You wanna die and nobody knows," she wails, like an edgy Hannah Montana. Even her duet with Psychedelic Furs' Richard Butler flops, his vocals buried so deep in the mix that even if it was a good song, you can't hear the guy. What could've been fairly strong if released as an EP, How To Walk Away seems to have morphed into an exceptionally dull record, partly due to Hatfield's inability to understand irony. — Laura Witkowski