Posted by: Ryan Allen on March 9, 2009 at 10:30 am

Welcome, bitches, to our first installment of the Monday Mixtape — a weekly collection of hot jamburgers that we're rocking around the office. For our inaugural edish, we're featuring some new tracks that we missed out on while we were away watching the first three seasons of "Weeds" on DVD.
Max Tundra :: Will Get Fooled Again
Perhaps best known for his remix work, UK digi-pop producer Max Tundra delivers an anthem for our social networking-obsessed society — proving that yes, you can even meet chicks on eBay.
The Pains of Being Pure At Heart :: Everything With You
Did Sarah Records ever go away? Not if you're a member of TPOBPAH, Brooklyn's resident fuzz-pop maestros, who lovingly nod to classic cuddle-core acts like Black Tambourine and the Field Mice, albeit at a much quicker pace.
American Princes :: Real Love
American Princes prove that chorus pedals sounds good beyond that of Nirvana's "Come As You Are," pushing it to the forefront of their angular, 80s-informed pop.
Grizzly Bear :: Deep Blue Sea
As anticipation for their new album reaches Merriweather Post Pavilion-like levels of blogsanity, Grizzly Bear try and tide us over with this lulling contribution to the Dark Was the Night compilation.
Wavves :: So Bored
If No Age is the Smell-scene's resident Guided by Voices, think of Wavves as every other kid in the 90s with a fourtrack and a dream. Think blown-out, lo-fi-as-fuck trash-pop by a skate kid in a oversized flannel and goofy hat, ollying over a pile of 7″ records.
Fucked Up :: Twice Born
Are they punk? Are they hardcore? Shugazi (shoegaze-meets-Fugazi, duh)? Who gives a rip? They're Fucked Up. Hands up if you think you're the only one!
Yeah Yeah Yeahs :: Sheena Is A Punk Rocker
From the War Child presents Heroes compilation, we have the Yeah Yeah Yeahs doing what they do best — spikey riffs, dirty beats, squealing — by way of this Ramones classic.
Asobi Seksu :: Me & Mary
Their new album, Hush, might be slightly lameburgers, but this breezy slice of dream-pop is remissible enough.
Ida Maria :: Oh My God
Lily Allen and Katy Perry might be all the rage in the mainstream pop world, but underneath it all is the clearly pissed off Ida Maria — heir to the throne that is PJ Harvey and Chrissie Hynde. Oh. My. God is this good.
Gentlemen Jesse :: All I Need Tonight (Is You)
Touring with Black Lips should turn this power-pop unknown into a slightly-better known power-pop uknown. For fans of Elvis Costello, Stiff Records, and staying up all night, drinking tall boys, and smoking weed out of an apple.
Posted by: Ryan Allen on March 6, 2009 at 2:09 pm

First thought: HOLY FUCKING SHIT IT'S NICE OUTSIDE.
Caught the last half of Fontana — one of those X! Records bands people on other blogs seem to really believe in. We believe, too. But we're not sure Fontana's puke-punk totally does it for us. Still, we were impressed with their dedication to angularity, and, well, the entire SST catalog. We were also impressed with the bassist's boots.
Plain Dealers — no "the", as they pleasantly informed us — were half stand-up comedy act, half 90s post-core assault machines. They had a song that brought to mind Blue Oyster Cult, mashed-up with the screaming hardcore of Swedish experi-metalists Refused. They played their asses off, despite all four band members being on the verge of a massive heart attack. Gotta love that. Oh, and the place was PACKED.
Hopped in the Acura and hoofed it over to the Knights of Columbus, and got the most amazing parking spot ever.
Walked in while Deastro and band were sprinkling their tight-as-fuck electro-pop over a healthy crowd of head-bobbers. Randy wanted more keyboards in the monitor, and we wanted more Deastro in the room (the sound at KofC was less than stellar). On the bright side (literally), Randy's shirt looked like he swiped it from an LA Lakers cheerleader in 1985, and the drummer played sideways on the stage, which always looks cool.
Ducked into the lounge area to catch most of Zoos of Berlin, who have really come into their own these days. Smoove jazz-pop gems that just don't quit. A band so classy, their mic stands had cup holders attached to them.
At one point, ran into the now-infamous Bryan Metro of Jesus Chainsaw Massacre, who was wearing a graduation gown, minus clothing underneath, Tommy Lee style. Found out some interesting things about the guy: A) his real name is is not Bryan B) his favorite movie is The Shining C) his knowledge of B-movie actress Shannon Whirry was impressive and D) he carries around bottles of beer in a backpack, and if you ask nice enough, he'll totally let you have one.
Ended the night catching most of the Silent Years set, which would have been totally amazing if it were at the Crofoot Ballroom. The sound in KofC's big room is just bananas, and we wish we could have heard more of the horn section they were touting on stage. Still, though, the band seemed like they put tons of work into the show, and Josh Epstein can sing like a motherfucker. He was also wearing a belt that was, we think, made out of a giant toy car. Another thing we noticed was that TSY are a band with FANS. Like, people sing along to their songs when they play, and want them to keep playing, even after they stop. It's easy to look to them and think, "This is how it's done."
Last thought: Could somebody please buy Steve-O a fucking Segway? His feet hurt, and it's only Thursday.
Pics: Trever Long
Posted by: Ryan Allen on March 4, 2009 at 1:28 pm
Fashionably late — it's a term everybody throws around when discussing the appropriate time to show up for something. When this year's Hamtramck Blowout rolls around, it ain't gonna be much different. We can see the text messages now…
"Dude, when R U going up there?"
"I dunno, dude. When does it start?"
"9?"
"K. Be there @ 11."
Yep. Typical. But that's where most of us go wrong. Sure, you've got all your trusted Cobras, D-Bombs, and Silent Years rounding out the headlining spots, all sure to pack 'em in. But hey, haven't we written about them before? The real blood, sweat, piss, and vinegar of the Blowout experience lies just under the radar, nestled in the early slots — a place where Detroit's weird, eclectic, underrated, and often-new, future headliners tread. Below are Detour's picks for Blowout's underdogs — 25 reasons to get off your ass and hit Ham-town early. Think of this list as that alluring light socket you know you want to stick your finger into, just to see how it feels. And let it be known: Fashionably late is now officially fashionably lame.
See you at the shows,
-The Detour Crew
ALLAN JAMES AND THE COLD WAVE (Friday, 10:20 p.m. / Painted Lady)
Sure, it's cool to be all weird and shit ('sup, Timmy Vulgar), but sometimes nothing beats husky, baritone vocals gliding over gentle, slightly shoegazey-yet-tastefully-emotional pop. If Radiohead is the band that launched a thousand ships, Allan James and the Cold Wave is the little tugboat in front, quietly leading the way.
Why they think you should see 'em: "Good buds, good beer, good times, and strong songs. Also…we look good."
MP3: Slammin' Beers
THE BLUEFLOWERS (Friday, 9:20 p.m. / Painted Lady)
Formally known as the under-appreciated Ether Aura, the Blueflowers woozy concoction of reverb-heavy guitars and American Gothic country-isms speak to the inner Cowboy Junkies fan in all of us. Columbia House 1 cent CDs 4-Ever!
Why they think you should see 'em: "Come get your fix of Americana/alt-country/melodramatic/indie music with the Blueflowers who just released their debut CD, Watercolor Ghost Town."
MP3: Any Three Words
KELLY JEAN CALDWELL (Friday, 10:40 p.m. / K of C Lounge)
Speaking of Cowboy Junkies, Caldwell takes that band's rustic ideals and sprinkles it with the kind of lo-fi folk that makes old Iron and Wine and Vashti Bunyan so appealing: a nice mix of the smooth and the strange. With local psychos like Craig Brown (Terrible Twos/Mahonies) and Todd McNulty (LMCA/Sugarcoats) now backing her up, add some dirt and grit to that last comparison.
THE DARTS (Thursday, 8:20 p.m. / Paycheck's)
Sometimes a band's name just says it all — think sharp, spastic, pointed riffs, soaring basslines, and crash 'n bang drums, all making a bee-line for your asshole.
Why they think you should see 'em: "Lansing heart throbs, the Darts, give high quality HJs."
MP3: Dancey #19
THE DETROIT PONY EXPRESS (Friday, 10:00 p.m. / New Dodge) Tack the word "Detroit" onto your name, and you're setting yourself up to fill some pretty big shoes (the Detroit Wheels come to mind). But hey, these guys opened up for Peter Frampton once, so maybe they're on to something. Listen to their blues-y/rock hybrid, and let them show you the way.
DEVILFISH (Thursday, 9:20 p.m. / K of C Lounge)
Devilfish's Pierce Reynolds has probably served you coffee before. Or maybe he saw you eating at Quizno's once — alone. He's also in Oscillating Fan Club — the D's resident psyche/surf/pop weirdies. If you're down with that group, think of Devilfish as OFC's mute little brother — sans vocals, but still riding on blissful waves of salty-sea psyche.
Why they think you should see 'em: "Devilfish is a freak of nature and the Blowout shall be no less freakish as our set will include: Dinosaur frontmen, elf juice, a possible name change and the drummer of Wildcatting sitting in for Rez. Monster house 98 style. Also, this will probably be the only show for quite sometime. Skeletons!"
DIVINE COMEDIANS (Thursday, 9:40 p.m. / Bar Carbon)
Forgive these youngsters if Neil Hannon's Divine Comedy isn't on their radar — this ex-Dollface (plus some Decks and some Marthas) is too busy digging on vintage garage pop to care much about some Scott Walker-wannabe in a nice suit. The DC's are cardigans and jeans, all the way.
Why they think you should see 'em: "People should come see us because our songs are catchy, we're good looking, and we will really LISTEN when you want to tell us about your day."
MP3: I'll Take A Page
ELLE & THE FONTS (Friday, 9:40 p.m. / Kelly's Bar)
There's lots of reasons to love Elle and her Fonts, but anybody who adores 90s lady-pop (think Juliana Hatfield, Breeders, Veruca Salt, and Letters to Cleo) as much as we do is tops in our book. Now, get to work on those listings, yo.
FIDYRICH (Thursday, 8:40 p.m. / Bar Carbon)
FUCK. YES. This is what we're talking about — drunken, Replacements/Husker's/Uncle Tupelo-style drunk 'n roll, falling all over the place and being all awesome and shit.
Why they think you should see 'em: You should come see Fidrych because a) It is our first show, b) we are 1/2 ex-porchsleeper and 1/2 ex-offramps and c) we are ready to bring the rock!
MP3: Throwin' Stones
1592 (Friday, 10:00 p.m. / Trowbridge House of Coffee) We're pretty sure they didn't have reggae or dub back in the year 1592 (they didn't have much of anything, really, except maybe some fuckin' chores and shit), but the band 1592′s straight-up Rastafarian jams make up for their goofy nom de plume. Think Toots, Tubby and Desmond Decker — none of that 311 bullshit.
Why they think you should see 'em: "Take the vibe of Jamaica with the soul of Detroit and you get the Rocksteady madness of 1592."
MP3: Rise of the Fallen
LAST TOURIST (Thursday, 9:20 p.m. / Paycheck's)
Some band's thrive on being unorganized. They show up late for gigs, don't bring all their gear, drink all your beer, and try and bang your girlfriend. Not Last Tourist, though. These dudes are total pros; nice guys, with nice songs that sound a bit like early Radiohead, except with the guy from Semisonic singing. Good. Pure. Never late.
Why they think you should see 'em: "Last Tourist: Proving naysayers that snarky gorillas CAN play bass since 2001."
MP3: Again and Again
LEIF ERIKSON (Saturday, 10:00 p.m. / The Belmont)
Like the Nordic Viking explorer that he takes his name from, rapper Leif Erikson navigates his rhymes like a sturdy wooden battleship bound for undiscovered lands. If his set at last year's Blowout is any indication, you're going to want to show up early for more lyrical pillaging.
MAN AT ARMS (Friday, 10:40 p.m. / Kelly's Bar)
Nevermind that Man At Arms was one of the most badass "He-Man" characters ever (tho Moss Man was kinda sweet, too). We're more interested in the bizarre skronk this Cleveland/Ann Arbor duo are throwing down. Equal parts Shellac and Mr. Bungle, MAT is proof positive that not all Michigan bands are content with aping Iggy.
Why they think you should see 'em: "We're your best choice for short, repetitive songs that fall apart before they really go anywhere, but that doesn't mean they won't get stuck in your head, annoying you for days."
MP3: Everything is Getting Better/Worse
MATT JONES (Friday, 9:20 p.m. / Atlas Bar)
By now, everybody knows the story about Mr. Matt Jones drinking an A&R guy into the gutter (literally) at last year's SXSW. But what many Detroiters might not realize is that Jones — besides being Ann Arbor's go-to sideman for all things folk and chamber pop, playing in such luminaries as Misty Lyn and The Big Beautiful, Elm From Arm, and Dabenport — is perhaps one of our state's best examples of nimble-finger guitar plucking and delicately sung laments. Ex-pat Sufjan Stevens should watch his ass.
NOMAN (Friday, 9:20 p.m. / The Belmont)
While seeing a white guy standing up on stage with an acoustic guitar usually conjures up images of Jack Johnson, hemp necklaces, and, more than likely, a beach ball being bounced around somewhere, Noman's catchy acousti-punk makes a case for getting unhinged while being unplugged. Plus their new disc, Broadcast, was recorded by Steve Albini, so you know that the drums sound real good.
Why they think you should see 'em: "Noman delivers high energy, covertly acoustic fronted indie/punk anthems. D.C. meets Bob Dylan."
MP3: Broadcast
OLD EMPIRE (Saturday, 9:40 p.m. / Baker's Streetcar) The vocals may sound slightly like Mike Ness, but that's where the Social Distortion comparisons begin and end. If the Von Bondies dug on Son Volt, Varnaline, and Centro-matic instead of the Misfits and the Jonas Broth…er, oops, we meant instead of Cheap Trick, then they might sound a little like Old Empire. Fans of guy/girl vocalizations and dusty-road pop that follows in the great Detroit tradition of the Volebeats, Blanche, and American Mars should welcome Old Empire nicely to the club.
Why they think you should see 'em: "Two reasons. You can choose which one you like better. We like porn as much as you do, [or] the first 50 entrants are eligible for free bubble gum."
MP3: Sweaterdress
THE PLAIN DEALERS (Thursday, 10:20 p.m. / Painted Lady)
A band that is self-deprecating enough to claim, "We're so underdog we don't have anything recorded," has to have been around the block a few times, right? Right. Ex-members of Justamustache-era Thunderbirds are Now!, bluegrass kingpins the Salt Miners, and long-gone bubble-punkers the Trembling get together and conjure the ghosts of Quicksand and Jawbox. The 90s ruled; The Plain Dealers will remind you why.
Why they think you should see 'em: "My brother said we 'sound like Fugazi if Ian drank and had kids.'"
ROGUE SATELLITES (Thursday, 9:00 p.m. / K of C Hall)
Ever wonder what Brendan Benson would sound like if he re-imagined his saccharine power-pop as the soundtrack to a classic Nintendo vid, and also had a sense of humor? If not, don't worry, because Rouge Satellites have gone ahead and done that for you. Wow…what a stress relief.
Why they think you should come see 'em: "You should come to our show at the Blowout because you don't want to miss those resonant sounds that pulse and throb and shake your teeth from their sockets while your bones rattle and your hips sway eternally…or maybe you just want a great fucking rock show!"
MP3: Dead and Cold
THE RUE MOOR COUNTS (Thursday, 10:00 p.m. / The Belmont)
These dudes used to be called the Birdogs, but let it be known that the Rue Moor Counts is a much better name. Sounds sinister, kind of like their music (a blistering mix of psyche, punk, and devilish folk). Also, somebody drinking cans of Coors in our van said that they "fucking rock." This dude had a crazy beard and wooden earrings, so we're going to trust him.
RUNNING WITH PANTHERS (Friday, 10:40 p.m. / Small's)
It's a classic story — bartenders and the buddies they give free drinks to form a band, get wasted, grow mustaches, and give their songs stupid names ("Fuck Party And Fight"). Every town's got one; we affectionately call ours ours Running With Panthers. Also: "Awwwww, what's wrong with his ass? Look at his ass. It's all fucked up!" (go to their Myspace page, and you will understand this)
Why they think you should see 'em: "RWP is the type of band that you don't simply flirt with, you either completely buy into their majesty or call it schlock and move on."
MP3: Take Me Home
ALAN SCHEURMAN (Friday, 9:40 p.m. / K of C Lounge)
Scheurman's days of toiling the basements and VFW halls of the often-thankless emo underbelly may be long gone (and so his old band Rescue, whose members have gone on to join Child Bite and the Silent Years, respectively), but his passion for music and art has gone unscathed. It's just that now, instead of blaring guitars and complex time signatures, Scheurman gets his ghost on, singing haunted freak-folk that would probably sound awesome during that one sweat lodge scene from the third season of "Lost."
Why he thinks you should see him: "You should come see me play if you've ever consumed mushrooms or LSD or if you're wondering what happens when a folk singer eats both and plays a show!"
MP3: Starless
SIKSIK NATION (Thursday, 9:40 p.m. / Smalls) These dudes talk their fair amount of shit on the local blogs, but listening to their grimy mix of B.R.M.C. fuzz, the Troggs-esque skuzz, and Rolling Stones shimmy, they have to goods to back it up. Also, this will likely piss them off, but sometimes they remind us of Tiny Music-era Stone Temple Pilots…which is totally a compliment in our book (seriously, "Big Bang Baby" fucking rules). Home-dude just sounds like Weiland, is all.
Why they think you should see 'em: "We make make space rock for agoraphobics."
MP3: Lord Is My Gun
WILD YEARS (Thursday, 9:40 p.m. / Whiskey in the Jar)
There must be something about living in Washtenaw County that drives boys with beards inside their homes to pick up acoustic guitars, fire up their four-tracks (or, more than likely, the ProTools software they just stole from the Internet), and lay down chunks of lo-fi, orchestral folk. Must be those ol' collegiate blues. Anyways, we've already seen it work for Chris Bathgate, Matt Jones, and the (we think) now-defunct Canada…so let's welcome Wild Years to the party, and keep enjoying this refreshing trend from our bros out west.
WOLFBAIT (Saturday, 10:40 p.m. / Small's)
A discussion was recently had: Is Wolfbait seriously funny, or just funny about being serious? We're not totally sure, but we're going to go with both. Either way, WB will probably show up to this show dressed like Meatloaft-meets-the-dudes-from-Mayhem, and will likely rip your dick off and pulverize it to bits with the sickest riffs this side of Harpos.
WOODMAN (Friday, 9:40 p.m. / Paycheck's)
Detroit's best-dressed-Dad Frank Woodman leads his ragtag family of freaks through a raucous set of ramshackle tunes that make the Brian Jonestown Massacre and Danielson Family seem normal.
Why they think you should see 'em: "Come see Woodman because we're a high energy family band that plays loud, cathartic, freewheeling Americana garage anthems with occasional drunken drama high jinks."
MP3: 5-Second Rule
Did we miss somebody? In a band and don't think you're an underdog? Go by the name Bryan Metro? Please, feel free to comment below.
Posted by: Ryan Allen on November 20, 2008 at 1:11 pm
As per usual, there's a lot of rad shit going on tonight in the D (and elsewhere), from Javelins playing for FREE at the WAB (early show, doors are at 7:30), to another mothafuckin' FREE show starring one of the most badass noise-pop bands to ever exist ever — Parts and Labor — at PJ's Lager House.
Free is cool and all, but let's not forget that sometimes it actually feels good to pay 5 bucks to see a show — especially when said show is being delivered by Knoxville, Tennessee's Royal Bangs (that five spot, hopefully, will go straight to them). Maybe you saw them open for the Black Keys not too long ago at the Royal Oak Music Theatre? No? That show was too expensive? You liked them better when they played at the Lager House?
Either way, 5 bucks isn't too much to ask, considering how goddamn excellent Royal Bangs are, and how addictive their new album We Breed Champions (out on Black Keys drummer Pat Carney's Audio Eagle label) is. If you're not familiar, think Broken Social Scene-esque progressive pop with a dose of Warp Records-ish electronica, rounded out with a sudsy beer-rock vibe ala the Replacements and Crazyhorse. We know, it sounds like it totally isn't going to work, but it totally does. It's loose, it's adventurous, and it's hooky in all the right spots.
Don't take our word for it, though. Watch some clips, and decide for yourself. Total weirdos Benny Stoofy opens the night. — Ryan Allen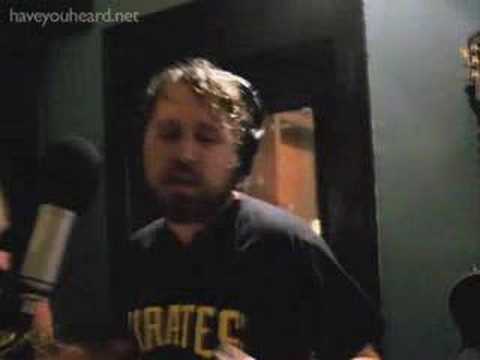 Posted by: Ryan Allen on November 19, 2008 at 9:00 am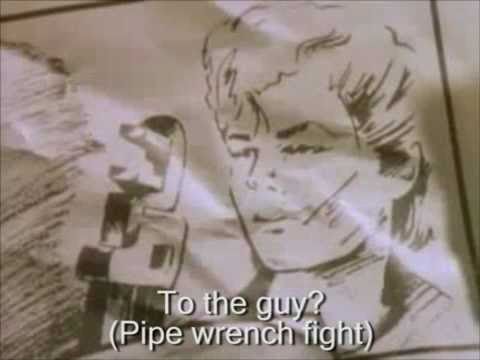 "Take On Me" — literally. — Ryan Allen
Posted by: Ryan Allen on November 17, 2008 at 12:53 pm
Last week, I had the privilege of seeing the Beach Boys' Brian Wilson live in concert. He played some wonderful stuff (the cuts from Pet Sounds being my personal favorite), and of course, the classic surfin/sunin/funin/lovin/doo-run-runnin hits of their early years (not a personal favorite). While it was all pretty amazing, I couldn't help but think of this David Lee Roth video the entire time Wilson and his band trudged through "California Girls" — mostly because I watched a insane amount of MTV as a kid, and because this particular video freaked me out for a number of reason: gigantic boobs, a cast of maniac-looking extras, Diamond Dave's chest hair, etc. Fasten your seatbelts, sign post up a head…a zousy zousy bop, diddly bop! — Ryan Allen
Posted by: Ryan Allen on November 6, 2008 at 10:00 am
The Sea and Cake, Car Alarm (Thrill Jockey)
MP3: "Weekend"
Not really famous for straying the course, Car Alarm is an album that you would expect to come from Chicago's the Sea and Cake. If you're into the band, then odds are you know exactly what to expect, and you will dig it. And why wouldn't you? All the key elements have been assembled for a typically great Sea and Cake record: Sam Prekop's smooth, breathy vocals, Eric Claridge's impressive and tight bass playing, John McEntire's jazzy and precise drumming and the jangly guitars of Prekop and Archer Prewitt. Like all their records, it is a combination of indie rock, pop, jazz and tropicalia. It is the obvious next step the band could have taken after 2007's awesomely poppy Everybody, with a very subtle return to some of the electronic sounds of the previous few records (check "Weekend" for some oscillating keyboard work that makes us yearn for some of the blippity-bloop jams from 1997′s The Fawn).
After almost 16 years worth of stellar, reliable releases, Car Alarm mostly sticks to the same strategy the band always has. But, we're huge fans, so we couldn't care less. Never change, boys. — Aaron Quillen
Posted by: Ryan Allen on October 31, 2008 at 10:00 am
Happy Halloween!
– The Detour Crew
Posted by: Ryan Allen on October 30, 2008 at 12:34 pm
Sebastien Grainger and the Mountains, S/T (Saddle Creek Records, 2008)
MP3: "I Hate My Friends"
If somebody slipped us this new Sebastien Grainger and the Mountains album with a homemade cover on it saying "New Killers Album Inside!," we'd probably totally believe it upon first listen to lead track "Love Can Be So Mean." It's all there: the synthy undertones, the double-time on the hi-hat drumming, the BIG TIME guitar riffs, the overwrought, dramatic singing. All that's missing are some lines about Las Vegas casinos and a jacket with bird feathers on the lapel.
Thing is, we've heard some of the new Killers album. And, you know, it's not that bad or whatever (although that "are we human, or are we dancers" line is pretty awful), but, it's still the Killers: a band so un-punk and prissy that it's almost impossible to Read more
Posted by: Ryan Allen on October 29, 2008 at 12:50 pm
Deerhunter, Mircocastle (Kranky Records, 2008)
It's bizarre to review an album that has been leaked for what seems like an eternity now, and one that has been available on iTunes, even, for at least a few months. But when you craft something as monumental and mesmerizing as Deerhunter's Microcastle, it's hard to just ignore it as if it's old news.
Certainly, by now, we're all pretty familiar with Deerhunter's story: Lead singer and resident minor-celebrity Bradford Cox is a lanky, humorous, effeminate, outspoken, blog-addicted, songwriting machine. Besides his well-received output with Deerhunter (including the much hyped Cryptograms and Fluorescent Grey EP), he has pumped out loads of stuff under his own Atlas Sound moniker, including the material released on last year's Let The Blind Lead Those Who Can See But Cannot Feel, and the musical treats he consistently Read more