Posted by: detourmag on November 26, 2008 at 10:03 am
Read more
Posted by: detourmag on November 21, 2008 at 5:24 pm
Read more
Posted by: detourmag on November 13, 2008 at 11:50 am
We made it out to Girl Talk on Tuesday but found ourselves having a sweaty make-out session with some chick from Waterford in the balcony through most of the set so we don't really have a solid review of the show. But one dude did sent this in (he actually commented but did so on an earlier Girl Talk show review from last year). Sounds like he would've rather hung out with me and my gal in the balcony…
From "Matt":
"This show sucked! Kidtronic sounded like a bunch of 15 year olds screaming into their dad's microphone about being wasted and having fun. They sucked. The Death Set was the best act all night. Kinda a Sum 41 with an electronic back. This was the only band that had instruments. They were fast and keep my head moving. They were OK. Girl Talk sucked the worse. I barly recognized anything that was played. The genius of Greg's style is the multiple samples that keeps you rattling off the original artist one after the other. That was absent all night. The set consist of "boom, boom, boom" for a minute long, one random sample, back to 'Boom, Boom, Boom.' He was completely unprepared and seemed totally lost all night. I was thoroghly disappointed."
Were you there? Do you agree? Are you that chick from Waterford?
Posted by: detourmag on November 11, 2008 at 1:05 pm
Read more
Posted by: detourmag on November 7, 2008 at 12:13 pm
Finally. The Detroit answer to the Baltimore Round Robin. Only it's all acoustic. And the artists are playing on a stage, not in "the round." Whatevs. It's definitely the place to be tonight and Jay will be dressed up as Dan Deacon doing shots of whatever you hand him. Beware, this is what happens after the fifth shot of Apple Pucker…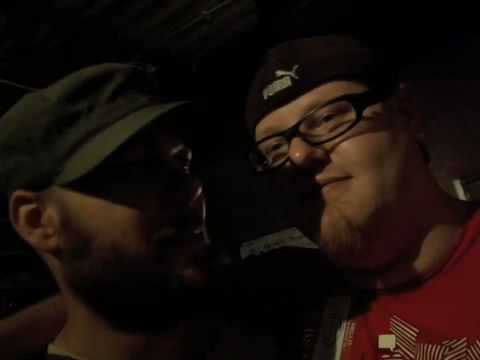 Posted by: detourmag on November 5, 2008 at 12:05 pm
Child Bite, "Barracuda Mouth" (Suburban Sprawl Music, 2008)
Posted by: detourmag on October 28, 2008 at 10:52 am
Read more
Posted by: detourmag on October 23, 2008 at 2:00 pm
Remember when everyone was ready to bury the Lager House? New ownership took over, ripped up the carpet, cleaned the bathrooms and everyone fucking freaked out. Rumors swirled that it would turn into a blues bar, a pay to play venue, etc. Bands bitched, bloggers stoked the fire and promoters talked shit from afar. Feels like a year ago. To commemorate a full year of putting up with the haters, PJ and his crew have put together a garage-soaked weekend of rawk. And you're invited. Email: info@detour-mag.com to get you and a friend on the guest list for both nights. First come, first served.
Friday's Lineup: The Fondas (pictured), The Pizazz and The Dial Tones
Saturday's Lineup: Cut In The Hill Gang (featuring Johnny Walker from The Soledad Brothers), The Muldoons, Danny Kroha and Dooley Wilson
For more info: http://www.myspace.com/lagerhouse
Posted by: detourmag on October 8, 2008 at 1:00 am
The two-day Baltimore Round Robin event kicks off tonight at the MOCAD gallery. Here's the concept: 29 Baltimore-bred bands and performance artists set up shop simultaneously "in the round." Band A plays a few songs then Band B plays their set… you get the picture. Wednesday's lineup, entitled "Eyes Night" features "a mixture of folk, noise, theatrics, improvisation– music that is spiritual, dreamy etc.," Thursday's festivities feature the Godfather of Round Robin himself, Dan Deacon along with The Death Set and 12 other artists presenting "Feet Night" – "music that you dance, thrash, or otherwise move around to." We're hoping this just turns into one big dirrrty 'shroom-drenched key party.
Wednesday, October 8th
BEACH HOUSE
JANA HUNTER
SANTA DADS
LEXIE MOUNTAIN BOYS
LESSER ALVAREZ GONZALEZ
TEETH MOUNTAIN
NAUTICAL ALMANAC
LIZZ KING
CREEPERS
WZT HEARTS
ED SCHRADER
SAND CATS
plus SURPRISES
Thursday, October 9th
DAN DEACON
DEATHSET
ADVENTURE
VIDEO HIPPOS
FUTURE ISLANDS
NUCLEAR POWER PANTS
DJ DOG DICK
BLOOD BABY
HEIGHT
CEX
SMART GROWTH
DOUBLE DAGGER
plus SURPRISES
MOCAD is located at 4454 Woodward, Detroit. For more info: http://www.thecrofoot.com
Posted by: detourmag on October 6, 2008 at 1:06 pm
No shit. You've already won. Just fill out the form HERE and you're in to the show on October 7th at the Royal Oak Music Theatre. And this dude will be there…