Posted by: Anthony Morrow on September 16, 2008 at 3:46 pm
Read more
Posted by: Anthony Morrow on September 16, 2008 at 11:14 am
Read more
Posted by: Anthony Morrow on September 11, 2008 at 12:25 pm

This song reminds me of summer 2000 when at least three of my friends had younger sisters who were fucking guys from the Suicide Machines. Oh, and it also reminds me that this band was friggin' roids and we should reunite them for our next festival. You down? Tell Royce every time you attend a show at the Stick to make it happen. And also tell him to turn that shit down; Jimmy Fallon's ears are still ringing from the Go! Team show.
– Harry Caul
Posted by: Anthony Morrow on August 29, 2008 at 2:00 pm

Marshall Crenshaw, Marshall Crenshaw (Warner Bros., 1982)
In 1982, no one was looking for the kind of music Detroiter-turned-New Yorker Marshall Crenshaw was making. An ode to Buddy Holly mixed with power pop, Crenshaw's self-titled debut is like an Americanized, nerdier version of Elvis Costello. Even if being the domestic Costello was a niche market, Crenshaw's simple pop music structure was still catchy and nostalgic enough to land the single "Someday, Someway" on the Top 40 charts. And that's just one highlight on a record of many, including Read more
Posted by: Anthony Morrow on August 27, 2008 at 9:00 am

Enter to win 2 tix to the Post-Hamtramck Festival Party at The Belmont on Monday, September 1st. Performing live: Deastro, Hawnay Troof, Sex Ghost and Breezee One. Oh yeah, your first drink is on Melody courtesy of FiveThreeDialTone, Summer Smash and Big Wave Dave. CLICK HERE for your chance to win!
Posted by: Anthony Morrow on August 26, 2008 at 6:49 pm

Enter to win 2 tix to Squeeze this Friday at the Royal Oak Music Theatre. CLICK HERE for your chance to win!
Posted by: Anthony Morrow on August 25, 2008 at 11:34 am

Detour is giving away tickets for two shows at the Royal Oak Music Theatre: The Residents on October 14th and Atmosphere on October 27th. We know it's far away, but enter to win now and put that shit on your calendar!
CLICK HERE for your chance to win!
Posted by: Anthony Morrow on August 7, 2008 at 3:00 pm
Champions of Breakfast aren't the first to fixate on the Power Glove as the most blessed artifact of 1980s gamer culture. But the Detroit-area duo of Val Hundreds and Moses Jackson (sure, those are their given names) get some solid zingers off in "The Power of Glove," not the least of which is its titular Huey Lewis reference. By now, you know that live, the Breakfast perform with big cardboard instruments…they have strange mustaches…and their 80s-addled music bites not as much on synth-pop or new wave as the tinfoil keyboard twitter and anthemic plead of movie sequences. The Champions of Breakfast aren't serious. Or are they? Just off a European tour (seriously!) and a bevy of CD release shows for their new Pleasure Mountain disc, the fucking Champs answered some not-so-serious questions with some not-so-serious answers. Go figure…– Johnny Loftus
Worst fanboy/fangirl experience…
A little while ago we had a girl come up to us at a show and insist that the track "Vanilla (always gets it raw)" was about her. When we told her that the song was written for our manager, Donny Villalobos, she became irate. She broke a bottle on our merch T-shirt bust and then tried to attack Donny. Val had to use his "long bass" to fend off the attacker.
Favorite music venue/city…
United States: The CAID, Detroit
Netherlands: De Magische Huidaap, Appeldoorn
Vegetarian, vegan or carnivore…
Dungeons and Dragons
Actor/actress you most want to hump…
Doodz
Bands you are digging right now…
Lyin Dogs, Lizz King, pre-surgery Ashlee Simpson
Last great movie you saw…
Nightbeast
TV shows you can't stop watching…
"DeGrassi," "Celebrity Rehab," "Flavor of Love" (season two only)
Beverages you request on your rider…
Mexican horchata
First car…
After meeting at a Jesus Lizard concert in the early 1990s, Val and I bought a 1989 white Buick LeSabre and toured in it for a couple years. The passenger door panel had almost completely rusted off, so in order to look badass, we slapped a 4-foot RATT rub-on decal on the hood. It worked.
Guiltiest Pleasure – thing you watch, read, listen to – that no one knows about…
The taste you get in your mouth after licking a bunch of postage stamps.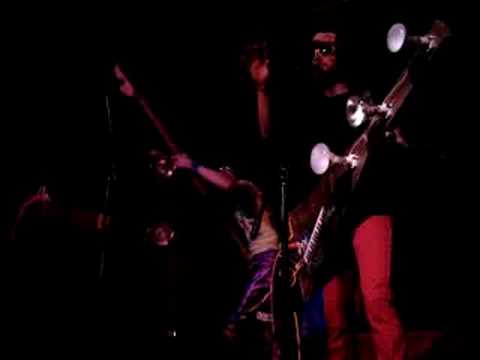 Posted by: Anthony Morrow on July 28, 2008 at 11:05 am
The rumor mill is working overtime on Tarantino's next flick. Some reports have an all-world cast jumping on board this "men on a mission" movie – Brad Pitt, Leonardo DiCaprio, Michael Madsen, Tim Roth, Adam Sandler, John Travolta, Bo Svenson and more. Quick overview: It's WWII and a team of Jewish soldiers are facing the firing squad for their misdeeds. In exchange for their release, they agree to engage in a suicide mission into war torn France and kill as many Nazis as possible. Pitt is supposedly playing the leader of this mission, Aldo Raine and DiCaprio is the purported Nazi general Hans Landa.
Is this the real deal? Internet film geeks are split. You be the judge…
DOWNLOAD THE ENTIRE SCRIPT HERE

Posted by: Anthony Morrow on January 29, 2008 at 9:58 am
Electro-synth wizard Dan Deacon discusses his Ultimate Reality Tour and video, evil companies and his image all within the cramped confines of Scrummage University's restroom. – 1/27/08 – Detroit, MI
[tags]Dan Deacon, Ultimate Reality Tour, Scrummage, Wham City, DIY Venues, Greyhound[/tags]