Posted by: Ryan Allen on September 9, 2008 at 2:00 pm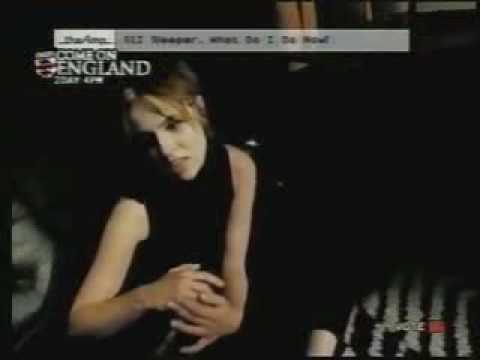 Sleeper, "What Do I Do Now?" (1996, Arista)
Quite possibly one of the most underrated Brit-pop bands around in the 1990s, Sleeper had a glimmer of a chance at stardom during the highly-covered "Battle of Brit-pop" between Oasis and Blur. Louise Wener, the sugary sweet, impeccably pop-savvy front woman and the gang (referred to jokingly as the "Sleeperblokes") snuck into the top 10 of the UK singles chart twice in 1996, while everyone else was too busy slamming each other in the press. Unfortunately, Sleeper broke up in 1998, leaving us with only three albums to obsess over, and a greatest hits album in 2007. Lucky for us, videos of some of their power pop gems are still floating around the Internetz — including "What Do I Do Now," a synthy nugget of modern rock that is like the perfect amalgam of Pulp's glammy sneer and Elastica's jangly femme-pop. — Elle Sawa
Tags: Blur, Brit-pop, Nice Guy Eddie, Oasis, Sleeper, Sleeperblokes, The It Girl, What Do I Do Now?
Posted by: Ryan Allen on August 25, 2008 at 2:00 pm

Rob Kenna, front and center.
As kind of an unspoken rule, we hardly ever write in first person on the Detour Website. But when something sad and heartbreaking occurs, sometimes it's appropriate to toss the rules out of the window and write straight from the heart.
So it is with great sadness that we report last week's passing of local musician Rob Kenna. Kenna was the lead singer and songwriter for the Farewells — an Ypsilanti-and-Detroit-based pop group that was just starting to get people talking around town. Formed in 2003 by Kenna, the band evolved from a recording project — one that resulted in 2004's underrated pop gem Suspicious Tones — into a full-fledged live entity, featuring bassist Nick White and drummer Larry Johnson.
A few of us here at Detour knew Rob; some better than others. But when I think of Rob, I am instantly transported back to early 2001 and 2002, when I frequented a indie-rock dance club in Windsor, Ontario called the Loop. Before Detroit kids were hip to how much fun dancing to Belle and Sebastian and Blur was, the Loop was essentially the only place my friends and I knew of where we could enjoy some drinks and the music that we liked without the bother or the pretense of trying to look or act cool in the process. Every Friday, we would make our way to the bar, knowing full well that we'd see some of the same characters week after week, and most definitely lose our shit to the Superfriendz' "10 Lbs." before the lights came flashing on, exposing our sweaty torsos and foreheads in all their glory.
One such character that was always in attendance was Rob Kenna, perched comfortably behind the DJ booth, helping the resident disc-spinner pick track after track of awesome music that would have us frequently dragging each other on to the dance floor — even if we were too awkward and shy to get out there in the first place. Besides supplying the right jams at the right time, Rob always delivered when it came to massive hugs and a genuinely enthusiastic "It's great to see you again, man!" kind of greeting that made you feel like that hour-long wait to get through the Windsor tunnel was totally worth it. His extremely amiable and positive attitude was the kind of stuff that would exhilarate you. In fact, when I first began encountering Rob, his polite and jovial manner — not to mention the fact that I only saw him in Windsor — lead me to assume that he must, of course, be Canadian. I have to admit that I was quite shocked when Rob revealed to me that he was a fellow Michigander; he just seemed way too nice to be from the States. And when it was time for everybody to get the hell out of the bar, and proceed down the street to eat the world's greasiest pizza, Rob was one of the few that you actually sought out to make sure you said goodbye to. A true testament to a truly great dude.
It goes without saying that Rob Kenna will truly be missed…but, one of the great things about music is that it always lives on, even after we are gone. So with that, we urge you to listen to the Farewells, and put a little piece of Rob in your heart. Rest in peace, Rob. — Ryan Allen
Tags: Belle and Sebastian, Blur, Rob Kenna, Superfriendz, The Farewells, The Loop