Posted by: Elle Sawa on March 4, 2009 at 9:54 am
The Darts have released their newest full-length, Wake Up, Be Jealous, on Attraction Records and are hitting the mitten state hard, stopping by PJ's Lager House March 21st with Prussia and Big Mess. Led by singer/spazz/guitarist Chris Minarik, this Lansing trio infuses what they deem as "indie pop," in to garage rock with seemingly little effort.
Posted by: Woodwards Friend on March 4, 2009 at 9:00 am

Let's just drive DPS into the river and report it stolen
Emergency Financial Manager Robert "Bob" Bobb signed his contract to run the Detroit Public Schools. Then he announced the district has a $150,000,000 deficit. Hey, nice work guy. It was only $139,000,000 when unfit parent Reverend David Murray and friends ran things. Bobb thinks he's so special just because he can read a balance sheet correctly. Well look here, elitist, we have ways of dealing with your kind…throwing grapes. We will throw lots and lots of grapes at Robert Bobb. That'll learn him. (Freep)
Cobo Hall is like a giant migraine headache
Monica Conyers called several important Congresspersons to find out if she could get some sweet and tasty stimulus money for Cobo Hall. That is to say, she called her age inappropriate husband, the once respected John Conyers, and he told his wife whatever she wanted to hear. That's what you do when you marry crazy. Meanwhile Dave Bing is still yammering on like an est facilitator. He blames Ken Cockrel's poor "leadership" because Monica is crazy, Joann Watson is stubborn, and Martha Reeves, Alberta Tinsley-Talabi, and Barbara-Rose Collins are dumb. (Freep, more Freep)
Detroit fire houses are like hippie sororities
In the grand tradition of karma cockpunching Detroit, a fire house burned down. Yes a fire house. Where firemen live and fire trucks are usually parked. Apparently one of these "firefighters" (trained in the art and science of fire) placed a towel over a lamp to create some mood lighting. He then lit some incense and was ready to curl up in bed with a Herman Hesse paperback when the alarm ran. The towel caught on fire and the whole place burned down. Seriously. (DetNews)
Toward a post-employment economy
Something like 26,000 more people transitioned into post-employment last month. What exciting and historic times we live in! The problem is so many of you people are now post-employment that the folks and at the postunemployment office can't keep up with the pace. Some of you people will have to get off the couch, shower, and perform "work" for government in order to help others make the transition. Typical socialist nonsense. (MLive, more MLive)
Rochelle Riley listens to Alanis Morrisette
Rochelle is mad as hell because she went down on AIG in a theatre or something and now they want more of our precious tax dollars. Wait, we're giving money to crappy banks? When did that start? Oh, yeah six months ago. Let's all get faux-empowered and not take it anymore. The late, great Paddy Chayefsky deserves better than to be filler in a dumb Rochelle Riley column but here we are. It's not fair for AIG to deny Rochelle of the cross she bared, etc. etc. To the barricades! (Freep)
Dear Penthouse Forum, Grand Rapids never thought this would happen to them
Kent County Commissioner James Vaughn was nailing this one chick when his girlfriend showed up and was like: why should I be jealous when I can just join in? That's our kind of girlfriend. Unfortunately the lady getting drilled in the bed was like: this is my man tonight, I ain't sharing. A cat fight ensued which was probably way hot until the cops showed up. Now they're explaining the whole thing in court. Anyone else think the judge isn't wearing anything under his robe? (MLive)
In case you don't get to it, Lessenberry's column in 100 words or less
Newspapers are dying and that is very sad. Also Dick Tracy foretold the Stephen Grant murder or something. But that's not what's important. What's really important is that Macomb Community College is having this big thing about the 1960's which is the most important decade ever because that's when the most important generation ever came of age. Richie Havens and the Smothers Brothers will tell you all about it. So listen up you little shits because things were important back then. (Metro Times)
Posted by: Elle Sawa on March 3, 2009 at 5:35 pm
No Fun Fylms presents After the Blood Rush, a film about vampires in Hamtramck (that's presumably fictitious) at The Painted Lady on March 14th. With a live performance by The 3-D Invisibles, who appear on the soundtrack, this is sure to leave your spine tingling once the bar closes and you must walk the dark streets of Hamtramck to your homes or vehicles. B.Y.O. garlic bulb necklaces and holy water. Buy the beer from the bartender (and tip well, just in case they are in cahoots with the supposed H-town vamp).
Posted by: detourmag on November 26, 2008 at 10:03 am
…Continue Reading >>
Tags: Calexico
Posted by: Mike White on November 24, 2008 at 8:00 am
Bruce Campbell will stand out in the freezing cold after a screening to make sure everyone who wants to say hello or get a picture with him get their time. His fans love him and that adoration has been reciprocated by Bruce in his latest motion picture project, My Name is Bruce. Not to be confused with the 1982 film They Call Me Bruce? about an Asian fellow who keeps getting mistaken for Bruce Lee, My Name is Bruce is about a fellow who looks a lot like Bruce Campbell who's asked to save the town of Gold Lick, Oregon from an evil Asian spirit.
Similar to the Jean-Claude Van Damme vehicle JCVD, My Name is Bruce has Campbell playing an alternative version of himself. Here the hard working Michigan native is a hard drinking slob who's content to take any role offered to him as long as it pays the bills. The well has run dry and his inept agent (Ted Raimi in one of several roles) can't line up any new gigs. Through a series of misunderstandings, and the handy use of a baseball bat, Bruce ends up on a Podunk town in what he thinks is just another B-movie role.
Bruce has been touring his sophomore directorial effort around the country. This past Friday, he made his way back to Michigan for a series of screenings at the Main Art Theater in Royal Oak. He took time on the road (literally) for a quickie interview.
Mike White: What interview question are you getting sick of hearing?
Bruce Campbell: Mostly Evil Dead 4. It's such old news. What do you do with it?
MW: It seems that you'd have to let the life go out of Spiderman before Sam Raimi would get back to that.
BC: It's not even that. I've got a TV show I'm committed to.
MW: Which sounds like a hell of a gig. You're shooting in Florida, right?
BC: Shoots in Miami!
MW: Very nice. Last time we spoke you talked about doing every touristy thing imaginable while working down on Congo.
BC: All on their dime.
MW: Do you get that question during your Q&As a lot as well?
BC: Of course I do. People can ask whatever they want. They're paying customers.
MW: I imagine you've gotten a lot of questions about how similar the Bruce Campbell of My Name is Bruce is to the real Bruce Campbell.
BC: Well, you'd better hope he's pretty damn different! This is always the danger of doing this sort of thing. Some idiot in the audience is going go, "Wow, I didn't know he drank whiskey out of a dog bowl!" There are similarities all over the place, but only I know them and I will never reveal them. There's a sequence in the movie where I'm talking with fans outside of a studio and every bit of dialogue is verbatim from real life.
MW: It had that feel, especially the guy in the wheelchair.
BC: I met the rudest man on the planet so what are you going to do? Kick the wheel chair under a bus? You can't really do that but in the movie I can!
MW: How do you feel about Jean-Claude Van Damme ripping you off with this whole "meta movie" idea?
BC: I'm going to have to kick his ass.
MW: That, I'd like to see. Sounds like a sequel. Where can I find one of those Make Love the Bruce Campbell Way standees like I saw in the film?
BC: Limited edition only. Try Craigslist.
MW: How'd you get in with the guys from Dark Horse Comics?
BC: I've known Mike Richardson for years. They put out the Evil Dead comic. They're good quality and I always favor the littler guy. They're a smaller, cooler company. I live in Oregon now and Mike lives in Oregon and Mark Verheiden. who wrote the movie, is also from Oregon. We had our own little state bond going on there.
MW: Did Dark Horse also put out the Man with the Screaming Brain comic book?
BC: Yeah, they did. It really was what the movie wanted to be and we were able to do it in a comic. I'm not going to make fun of my own movie, though, there are plenty of other people who will do that for me.
MW: How's the My Name is Bruce Tour going so far?
BC: Good. We're about halfway through the tour now. I'm headed to Birmingham and in Monroe now. If it sounds weird for a second; I'm going through a car wash. Life must continue on the road.
MW: Who all is on this trip with you?
BC: I'm going with a buddy of mine.
MW: Are you going to be home in time for Thanksgiving?
BC: No, I'm doing that with family in Michigan. Some things you get screwed on but other things work out great.
And, with that, the car wash jets began and Bruce Campbell signed off.
Tags: Bruce Campbell, Evil Dead, My Name is Bruce
Posted by: detourmag on November 21, 2008 at 5:24 pm
…Continue Reading >>
Posted by: Ryan Allen on November 20, 2008 at 1:11 pm
As per usual, there's a lot of rad shit going on tonight in the D (and elsewhere), from Javelins playing for FREE at the WAB (early show, doors are at 7:30), to another mothafuckin' FREE show starring one of the most badass noise-pop bands to ever exist ever — Parts and Labor — at PJ's Lager House.
Free is cool and all, but let's not forget that sometimes it actually feels good to pay 5 bucks to see a show — especially when said show is being delivered by Knoxville, Tennessee's Royal Bangs (that five spot, hopefully, will go straight to them). Maybe you saw them open for the Black Keys not too long ago at the Royal Oak Music Theatre? No? That show was too expensive? You liked them better when they played at the Lager House?
Either way, 5 bucks isn't too much to ask, considering how goddamn excellent Royal Bangs are, and how addictive their new album We Breed Champions (out on Black Keys drummer Pat Carney's Audio Eagle label) is. If you're not familiar, think Broken Social Scene-esque progressive pop with a dose of Warp Records-ish electronica, rounded out with a sudsy beer-rock vibe ala the Replacements and Crazyhorse. We know, it sounds like it totally isn't going to work, but it totally does. It's loose, it's adventurous, and it's hooky in all the right spots.
Don't take our word for it, though. Watch some clips, and decide for yourself. Total weirdos Benny Stoofy opens the night. — Ryan Allen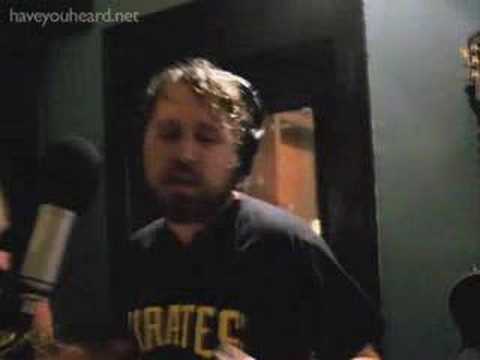 Tags: Audio Eagle, Black Keys, Corktown Tavern, Pat Carney, Royal Bangs
Posted by: Ryan Allen on November 19, 2008 at 9:00 am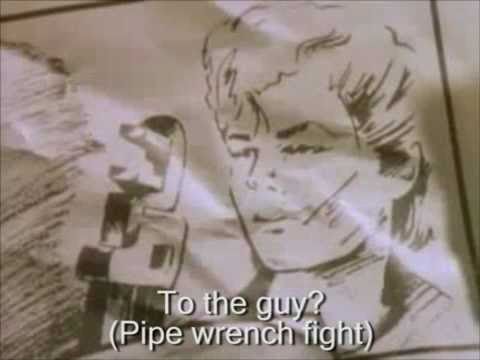 "Take On Me" — literally. — Ryan Allen
Posted by: Elle Sawa on November 18, 2008 at 11:57 am

I ventured out to Pontiac last Thursday to see Deerhunter, whose newest release Microcastle is nothing short of amazing. First up was Disappears, who sounded like Ikara Colt if they were a shoegazer band. It was good, but slightly underwhelming. Hailing from the "blue state of Ohio," Times New Viking took the stage by storm, reminding us that we were at a live show and that I should probably not fall asleep on my date. Although TNV's albums are considered lo-fi, their set was anything but. I expected my eardrums to be pierced by feedback, but I was pleasantly disappointed. By the time Deerhunter got onstage, The Crofoot was packed. Bradford Cox noted that Michigan was up to this point, the best stop on their tour. I'm thinking he says that in every city. Cox asked people to throw things on stage at him, while the bass player humbly begged for a cigarette, and got one (and a hat!). Awesomeness.
— Elle Sawa
p.s. did anyone get pics of this show? send some our way…
Tags: Bradford Cox, Deerhunter, Disappears, Times New Viking
Posted by: Ryan Allen on November 17, 2008 at 12:53 pm
Last week, I had the privilege of seeing the Beach Boys' Brian Wilson live in concert. He played some wonderful stuff (the cuts from Pet Sounds being my personal favorite), and of course, the classic surfin/sunin/funin/lovin/doo-run-runnin hits of their early years (not a personal favorite). While it was all pretty amazing, I couldn't help but think of this David Lee Roth video the entire time Wilson and his band trudged through "California Girls" — mostly because I watched a insane amount of MTV as a kid, and because this particular video freaked me out for a number of reason: gigantic boobs, a cast of maniac-looking extras, Diamond Dave's chest hair, etc. Fasten your seatbelts, sign post up a head…a zousy zousy bop, diddly bop! — Ryan Allen