Posted by: Ryan Allen on August 25, 2008 at 2:00 pm

Rob Kenna, front and center.
As kind of an unspoken rule, we hardly ever write in first person on the Detour Website. But when something sad and heartbreaking occurs, sometimes it's appropriate to toss the rules out of the window and write straight from the heart.
So it is with great sadness that we report last week's passing of local musician Rob Kenna. Kenna was the lead singer and songwriter for the Farewells — an Ypsilanti-and-Detroit-based pop group that was just starting to get people talking around town. Formed in 2003 by Kenna, the band evolved from a recording project — one that resulted in 2004's underrated pop gem Suspicious Tones — into a full-fledged live entity, featuring bassist Nick White and drummer Larry Johnson.
A few of us here at Detour knew Rob; some better than others. But when I think of Rob, I am instantly transported back to early 2001 and 2002, when I frequented a indie-rock dance club in Windsor, Ontario called the Loop. Before Detroit kids were hip to how much fun dancing to Belle and Sebastian and Blur was, the Loop was essentially the only place my friends and I knew of where we could enjoy some drinks and the music that we liked without the bother or the pretense of trying to look or act cool in the process. Every Friday, we would make our way to the bar, knowing full well that we'd see some of the same characters week after week, and most definitely lose our shit to the Superfriendz' "10 Lbs." before the lights came flashing on, exposing our sweaty torsos and foreheads in all their glory.
One such character that was always in attendance was Rob Kenna, perched comfortably behind the DJ booth, helping the resident disc-spinner pick track after track of awesome music that would have us frequently dragging each other on to the dance floor — even if we were too awkward and shy to get out there in the first place. Besides supplying the right jams at the right time, Rob always delivered when it came to massive hugs and a genuinely enthusiastic "It's great to see you again, man!" kind of greeting that made you feel like that hour-long wait to get through the Windsor tunnel was totally worth it. His extremely amiable and positive attitude was the kind of stuff that would exhilarate you. In fact, when I first began encountering Rob, his polite and jovial manner — not to mention the fact that I only saw him in Windsor — lead me to assume that he must, of course, be Canadian. I have to admit that I was quite shocked when Rob revealed to me that he was a fellow Michigander; he just seemed way too nice to be from the States. And when it was time for everybody to get the hell out of the bar, and proceed down the street to eat the world's greasiest pizza, Rob was one of the few that you actually sought out to make sure you said goodbye to. A true testament to a truly great dude.
It goes without saying that Rob Kenna will truly be missed…but, one of the great things about music is that it always lives on, even after we are gone. So with that, we urge you to listen to the Farewells, and put a little piece of Rob in your heart. Rest in peace, Rob. — Ryan Allen
Tags: Belle and Sebastian, Blur, Rob Kenna, Superfriendz, The Farewells, The Loop
Posted by: Ryan Allen on August 20, 2008 at 2:45 pm

Guess who the local rockers are — weighing in on the Kwame situation, behind the bronzer and fake mustaches — and we'll give you, uh…well, we can't give you anything, but guess anyway! — Ryan Allen
Tags: Kwame Kilpatrick
Posted by: Ryan Allen on July 31, 2008 at 1:00 pm

Ever wonder what our office looks like? What we're all about? What it looks like when somebody is surfing the Detour site and then posting it on YouTube? Well, now you can, thanks to Tom Hendrickson and Metromode, who recently dropped by the bivouac to film this sweet little piece on us. Go ahead: try and not be jealous of our luxurious leather couch and battle ship-styled desks. Both can crush you. — The Detour Crew
Posted by: detourmag on July 25, 2008 at 2:09 pm

For those of you attending this weekend's X! Fest @ The Bohemian National Home, there are some major changes to Saturday's schedule that you'll want to know…
From the Bohemian:
Due to a scheduling conflict with the Tillman St. Family Fun Day, Saturday's X! Fest event won't start until 10:00 p.m. (Doors at 9pm, music STARTS PROMPTLY AT 10pm SHARP). If Tillman St. is still closed off when you arrive, go west on Michigan one street to 23rd and come up Butternut (our side street) to the alley behind The Bohemian. We'll have our back gate open so you can park in our lot. Also, people coming Friday should be considerate of the neighborhood family event that starts the next morning. Please do not leave trash in the open lots around The Bohemian- our neighbors appreciate it even more than we do…
It's a minor bummer, but it will still be a fun time. Although be aware that the BBQ is NOT HAPPENING on Saturday. Just a bunch of awesome bands.
The FINAL schedule:
Friday (Doors at 8 pm, music at 9pm SHARP; $8)
Tyvek
Frustrations
Sic Alps (San Francisco)
Psychedelic Horseshit (Columbus)
The Mahonies
Heroes & Villains
Saturday (Doors at 9 pm, music at 10pm SHARP; $8)
Terrible Twos
Guinea Worms (Columbus)
Fontana
Necropolis (Columbus)
Druid Perfume
THTX
Beekeepers
Google Map >> Bohemian National Home (3009 Tillman, Detroit)

Posted by: detourmag on July 17, 2008 at 11:04 am

For those of you who aren't familiar with Matt Allen (aka Ice Cream Man) here's the scoop: dude travels around the country non-stop in a 1969 Chevy step van handing out free ice cream to hipsters at some of the biggest music festivals as well as doling out the goodness to sick kids at hospitals. We've shared Astro Pops with him at SXSW and Lollapalooza and he's truly one of the "good guys" in the indie scene. As of today, Matt and his crew have already Read more
Posted by: Ryan Allen on July 3, 2008 at 5:00 pm
MP3:  "Frustration Rock"

Congrats: Detroit lo-fi punk stars Tyvek (did you catch them on MTV recently?) are set to join the Black Lips, Black Mountain, the Notwist, and more for the relaunch of Sub Pop's Singles Club this summer. Needless to say, Ben Blackwell is super excited about this. — Ryan Allen (Via Pitchfork)
Tags: Ben Blackwell, MTV, Singles Club, Sub Pop, Tyvek
Posted by: Ryan Allen on July 1, 2008 at 12:10 pm

Albert Hammond, Jr. is streaming his second solo album, Como Te Llama?, over at his MySpace page RIGHT NOW. It'll be up for a week, though, so don't freak (it comes out on July 8 via RCA/Black Seal Music). While you're there, check out his top friends, including ex-"That 70s Show"-er Danny Masterson, Sean Lennon, and some band called the Strokes. This dude must be, like, famous or something! — Ryan Allen
Tags: Albert Hammond Jr., Como Te Llama?, Danny Masterson, Sean Lennon, The Strokes
Posted by: Ryan Allen on June 30, 2008 at 9:18 am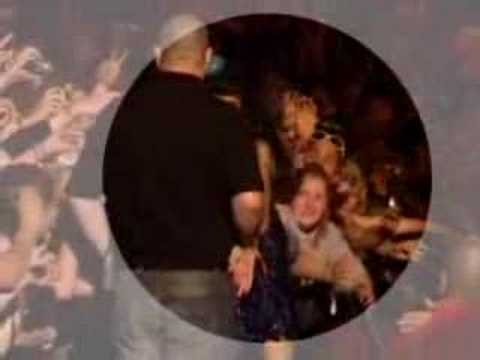 Watch, as Amy Winhouse takes a swing at a grope-y groupie at this past weekend's Glastonbury Festival.
Tags: Amy Winhouse, Glastonburry, Punch
Posted by: Ryan Allen on June 26, 2008 at 3:00 pm

People tend to sometimes have the opinion that "nothing is going on in Detroit." This, of course, is wrong. Remember Rock City? Yeah…that was fun. Anyway, here's a couple of worthy, Detroit-centric news bits that we found while poking around the Internets.
Stereogum has posted an interview with Pas/Cal's Casmier Pascal, talking about a new song from their upcoming album that we already reviewed called "Glorious Ballad of the Ignored." It's about nerds getting beat up.
Pitchfork has a little blurb up about Comerica Cityfest — the one where the Zombies, Broken Social Scene, and a bunch of great locals, ranging from the Dead Bodies to Zoos of Berlin are playing; the one where you can eat fish 'n chips for 11 dollars, er, we mean, eight tickets.
Webvomit points out that there is a benefit show for Slow's BBQ employee Nancy Naperala — who, sadly, suffered a stroke a few weeks ago — happening TONIGHT at the Bohemian National Home, featuring Magic Shop, Dark Red, Shadiamond La Freedom, Sweet Bird, and the Readies. Doors are at 9:00 pm, and it's a mere 10 bucks to get in.
— Ryan Allen
Tags: Bohemian National Home, Broken Social Scene, Cityfest, Dark Red, Dead Bodies, Magic Shop, Nancy Naperala, Pas/Cal, Shadiamond La freedom, Sweet Bird, The Readies, The Zombies, Zoos of Berlin
Posted by: Ryan Allen on June 26, 2008 at 11:00 am

If you've already downloaded it, you pretty much know that The Slip is Nine Inch Nails' strongest collection of electro power jams since, well, that "Perfect Drug" song was all over MTV. Since Trent Reznor has become the Goth/Industrial version of Ian McKaye and Thurston Moore — giving shit away for free, taking cool bands like Deerhunter on tour — it's not surprising that he's doing something special for the official physical release of The Slip, giving you more bang for your buck. The CD version of the album comes out July 22, is limited to 250,000 copies worldwide, and contains a DVD featuring footage for the band's upcoming tour, as well as a 24-page booklet and sticker pack (stickers!!!). A gatefold vinyl version of the album comes out August 5. So now you can slip it in three ways…just the tip, halfsies, or all the way. — Ryan Allen
Tags: Deerhunter, Ian McKaye, Nine Inch Nails, The Slip, Trent Reznor, Turston Moore