Posted by: Woodwards Friend on March 9, 2009 at 10:08 pm
Kwame Kilpatrick wants to soft rock you
The first thing that jumps out is a message on page three that reads: "You are the wind beneath my wings." Not only is Kwame Kilpatrick a liar and crook, he's also a douche. A disgusting Tim Robbins in High Fidelity kind of douche. He probably won Carlita's love with his extensive knowledge of Dan Fogelberg lyrics.
Kwame Kilpatrick was like the municipal Louis XVI
"Hi Mr. Mayor. Hope you are alright…I'm home in DC if you need me…Leadership is a B. But rewards make the challenge worth our commitment to our God and our people. YOU ARE CHOSEN. Let's Roll. Mom." See, he didn't just get up in here by just coming. He was CHOSEN. By Jesus. Why do you hate Jesus, Detroit?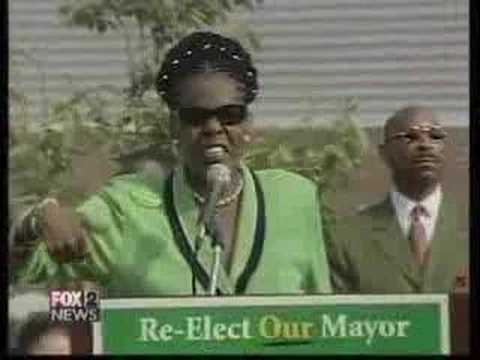 Does Ruth Carter issue verdicts with that mouth?
When the Honorable Ruth Carter, 36th District Court Judge, was head of the Law Department she decided that Gary Brown's lawsuit amounted to slander and wanted him prosecuted. Prosecutor Mike Duggan was like: Ugh…no. Also slander isn't a criminal offense. Nice lawyering. Duggan suggested they "play ball." Carter, in her expert legal opinion, texted: NO FUCKING CHANCE! Say what you will about Mike Duggan but he's a lot smarter than Ruth "FUCKING" Carter.
That Navigator was very important to Carlita
No wonder the great Navigator saga of 2004 (2005?) seemed to last well past the usual Sweeps Week arc of a Steve Wilson story. Carlita really, really wanted that car. If her husband was going to nail girl Scottie Pippen then Carlita was going to get a really garish looking luxury SUV. Red is a horrible color on that vehicle. You might as well throw in some blue carpet and gold curtain rods.
Sending Smooth B out for some sandwiches
Poor Dominic Pangborn. He built "a life from nothing in this country and not only do good for [his] family but for so many others" only to pitch his dirty deal to the least significant member of Team Kilpatrick. Apparently, Derrick Miller's main responsibility was fetching lunch. He didn't dare return with sandwiches on the wrong kind of bread. Again. Always figured that was Matt Allen's job.
The Kilpatrick-Beatty affair was an Urban Adult Contemporary radio station
There's a line from Six Degrees of Separation about how collage is the art form of the 20th century. Everything has already been created and we are in a post-modern era of re-invention. Alternatively, we're a society of lazy slobs who would rather quote Luther Vandross, Anita Baker, and R. Kelly than come up with an original, honest expression of our deepest emotions. For Kilpatrick and Beatty, it's the latter.
Grooming is important to a healthy long-term sexual relationship
Christine trimmed back her Vietnamese jungle bush with "A CUTE LITTLE BIKINI WAX" and Kwame was like: "I'm GOING TO BE ALL OVER THE BIKINI WAX SECTION OF YOUR BODY. LOL" Take a second to get that little bit of vomit back down your throat. LOL is the all-time single worst contribution to the lexicon. It can't be said enough. No one over the age of 9 should ever use LOL. Ever. (Freep)
Tags: Team Kilpatrick
Comments