Posted by: Ryan Allen on September 29, 2008 at 1:34 pm
On the morning of Saturday, September 27, I awoke feeling as if I was dropped out of an airplane, only to fall through the roof of my own house and into my own bed. The night before, my band had played our CD release show, and because it was more or less a "celebration" of sorts, I partook in possibly one too many helpings of a certain gold-colored beverage known to impair judgment from time to time, and needless to say, I was "feeling it" the next day.
But no matter — it was time to get up and shake it off. Because today was a day that I had been waiting for ever since I was a 16-year-old scruff in an oversized Sloan t-shirt marveling at the sonic mastery that is Loveless –- indeed, today, I was going to drive to Chicago to see My Bloody Valentine play live; and not only for the first time ever in my life, but for essentially what was only their fifth show in the US in over 15 years.
After a quick trip to Chipotle — McDonald's Taco Bell! — to stuff a burrito in my alcohol-beaten body, my crew and I were off to Chi-City, cruising down I-94, jamming Archers of Loaf's White Trash Heroes as if it were 1998 all over again. And soon, it was about to be 1991. And soon after that, 1988. Looks like our little Acura can convert into a time machine after all.
Once we completed the four-ish hour drive, we pulled into the city only to find that the street where our hotel was located was under some sort of construction. There were plastic coverings, loud machinery clack-clunking, and enough dirt, debris, and rubble to make me wonder aloud: "Where the fuck are we? Iraq?" Also, the hotel was essentially hidden under an "L" train rail, so, of course, being from Michigan, we were completely thrown off by the mere existence of an alternative mode of transportation in our midst. Soon enough, though, we found our destination (that iPhone Maps thing really is pretty dope), paid the incredulous fee of $42 dollars to park, and were up in the hotel's guts in no time.
Once up to the room, we flipped through channels for a bit, but decided it'd be best to get some food and take in some sights before we headed out for the show. And while the broadcast of Con-Air* on TBS was pretty attractive, we opted instead to walk down to Millennium Park to see what was up. Immediately, we saw B-class celeb Chris Hardwick talking on the phone, presumably to either Jenny McCarthy or Carmen Electra, urging them to do a "Singled Out" reunion. Unimpressed, we walked over to a giant silver bean-looking thing, that when standing under it just right, looks like what I would presume the Silver Surfers asshole to look like. Actually, it looks like this:
Then it was on to the Wired Magazine Future Fest (or some shit) to look at a bunch of goofy technology that nobody will care about in five years, when that technology is inevitably replaced by newer technology that nobody will then care about five years after that (and so on). We did see some strange shit though, including something called Brain Ball where two people strap a headband to their noggins and try to move a little ball…WITH THEIR MINDS! We also saw a futuristic wheel chair that you turn by making motions with your hands, and that little yellow dude from the Spoon video. Oh, and giant faces spitting water at little children. Look:
Feeling a little hot, claustrophobic, and not German enough to be in Future World, we decided deep-dish pizza was in order, and were soon getting our grub on across the street. After our meal, we headed back to the hotel to take in some hard hitting MSNBC "Cold Case" report entitled "The Santa Strangler." And though fascinating, we had bigger things to get to, namely watching four shy British people melt our minds with Fender guitars and gaggles of effects pedals. So, with that thought in mind, we were off to the show.
Arriving at the Aragon Ballroom, where the show was to take place, what I predicted to occur came quickly to life: Hustling and bustling amongst lines for 30-dollar MBV t-shirts and 6-dollars beers were droves of music fans from all walks of life, all with the same sort of intoxicated euphoric gazes, engaging in the kind of excitable anticipatory chatter that seemed fit for a show featuring a band that mostly all of them had either never seen, or had seen only once (and maybe missed some of it cos they were out in the parking lot taking mushrooms and ecstasy) over 15-years ago. You had the aging former college rock DJs in Curve shirts mingling with confused Goths, hipsters in their anti-war scarves, and more than a few "that guys" sporting homemade MBV shirts, worn proudly and without shame. The one thing, besides that we were all here for the same band, that bound us all together were the orange earplugs seen perched in just about everybody's ear canals. Indeed, shit was about to get LOUD.
Around 9:00, we decided to head in to the actual space where the show was taking place. Walking in, we were a little taken aback by the sheer size of the venue -– it was a massive, cavernous room, filled to the brim with bodies and beers. We traveled around the perimeter, attempting to find a good spot, but had next to no luck. Apparently we didn't didn't get the memo that in order to actually see My Bloody Valentine, you had to show up a lot earlier than 8:45. But, "seeing" MBV kind of becomes secondary; soon, we were about to feel them.
A little after 9, the lights on the stage darkened. In response, the crowd served up a mediocre-at-best version of clapping and cheering –- one fit for a support act, and not a legendary band that has been dormant for the better part of two decades. "Oh," we thought, "we just got here in time for the opening band" (New York mope rockers Hopewell). Much to our surprise, though, the familiar seagull-sounding synth line of "I Only Said" off of Loveless started blasting in mind-boggling volume from the PA system. And in that instant, My Bloody Valentine was playing. Earplugs: IN!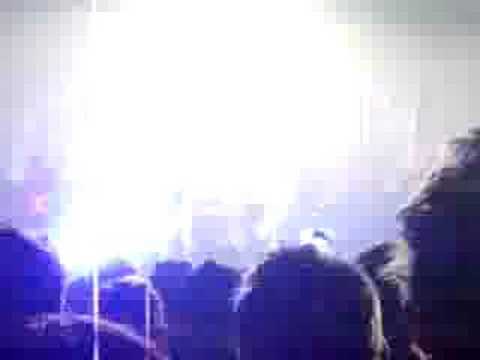 We moved from our spot on the balcony down to the floor, again, desperately trying to find an ideal spot. This is a photographic document of our journey:
First spot: by the stairs. Not good.
Second: by a pillar, peaking around the corner. Meh.
Third: back by the beer (yes!) and with enough room to make out four barely moving figures holding Fender Jazzmasters like weapons of mass destruction. Eh, good enough:
So here it was: 15 or so years in the making, and My Bloody Valentine were actually playing. As they moved through their set, a few things became strikingly evident:
1. It was loud as fuck. Seriously, I saw dudes were wearing the kind of ear protection that the guys on airplane runways wear.
2. MBV were not going to talk, save for "Thanks for coming" (from guitarist Bilinda Butcher) and "Thanks" from Mr. Kevin Shields himself –- which came about 10 songs into their set.
3. The light show and video projection playing behind them was meant to take the place of any actual movement on stage, save for a wobbly Debbie Googe, who sported a wicked white Fender Thunderbird bass.
4. All of the texture, i.e. the famous synth lines and, of course, the drum loops that pepper Loveless were pre-recorded, occasionally giving off the impression that we were watching MBV karaoke.
5. Songs from Isn't Anything and the You Made Me Realise EP sounded amazing, most notably because the band is might tighter now than they were back in 1988, especially drummer Colm Ó Cíosóig.
As the set was coming to an end –- a set that essentially succeeded on the "songs I want to hear" count, though I would have liked a bit more from Isn't Anything ("Soft As Snow (But Warm Inside) would have been great) — the inevitable was soon on the horizon. The final frenzied chords of the punkish "Feed Me With Your Kiss" came to a close, and soon, the atonal riffs that kick off "You Made Me Realise" were soon bellowing like angry hornets out of the Aragon's by now pushed-to-it's-limits PA system. About two-or-so-minutes into the song, the band comes to an abrupt stop, and what is now known as the "Holocaust Section" of the track explodes into shards of pure white noise. Then, it goes on for twenty minutes. Throughout, your body tends to experience a number of different emotions. First, you laugh, not knowing what else to do. Then you start looking around, taking in the reactions of other folks, some with their ears covered, some looking like they are about to vomit. Others looked confused and angry; others were in pure ecstasy, letting the noise wash over them like fearless cameramen sucked into the eye of a hurricane. Either way, this is the first time that instead of only just hearing a band, that I actually felt them as well. At one point, my wife turned to me and said, "This is making my throat vibrate."
Finally, after what seemed like an eternity, the band kicked back in, ending the song in a furious whirlwind, leaving most people stunned at what they just saw. Many in the crowd hung around for the possibility of an encore, but really, how can you top the musical equivalent of a band replicating the sound of an airplane engine exploding? Really, you just can't (although the band's cover of Wire's "Map Reference 41°N 93°W" would have come close). So what to do after all that? How about dance to some Spanish techno at Duffy's Bar, and get increasingly more intoxicated at the Rainbo. All in all, it was a hell of a night, and we have this guy to blame for it:

My Bloody Valentine Set List:
I Only Said – When You Sleep – You Never Should – When You Wake – Cigarette In Your Bed – Come In Alone – Only Shallow – Thorn – Nothing Much To Lose – To Here Knows When – Slow – Soon – Feed Me With Your Kiss – You Made Me Realise
Also, a nice photo set from the show.
*Did you know that Dave Chappelle is in Con-Air? Because he totally is.
— Ryan Allen
Tags: Aragon Ballroom, Chicago, Isn't Anything, Loveless, My Bloody Valentine, You Made Me Realise
Comments