Posted by: Ryan Allen on August 29, 2008 at 1:00 pm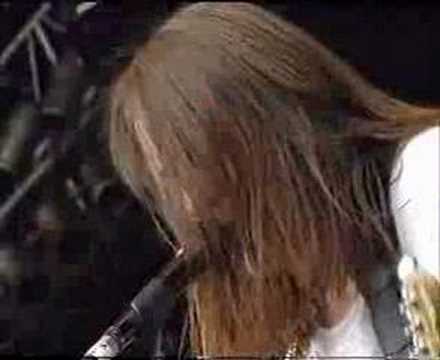 The Posies, "Solar Sister" (Live @ Phoenix Festival, 1994)
We're not sure, but this might have been as big as power pop ever got (besides, maybe, those dudes from Fountains of Wayne writing "That Thing You Do"). This clip — from a 1994 performance at something called The Phoenix Festival, not in Arizona, mind you, but in the UK — shows bubble-grunge workhorses the Posies totally ripping one out in front of a crowd of curious Brits. Chances are, they were probably playing around the same time as Menswear or Cast, so forgive them if attendance during their set seems a little sparse.
Oh, and in case you didn't know: Comprised of dual singing/songwriting powerhouses Ken Stringfellow and John Auer, the five records the Posies released between 1988 and 1998 are perhaps the most shining examples of power pop done right. The harmonies are tight in a way where it's almost impossible to tell Stringfellow and Auer apart, the guitars are soaked with a thick, sticky goo that makes them sound larger than life, and original drummer Mike Musburger hits harder than a wrecking ball tossed off a 100-story building.
Their performance shown here depicts a band in their prime — before Stringfellow decided he should be 40 and have pink hair, before Auer ate one too many Whoppers while on tour, and before that bassist dude somehow wound up playing in Sunny Day Real Estate for a second. "Solar Sister" is one of the standout's on 1993's DGC Records-released Frosting on the Beater; an album that also includes the semi-psychedelic stomper "Dream All Day" — whose video, for some stupid reason, is disabled to be embedded on this here Website. But, you can't fool us YouTube! We'll just link to that shit, and everything will be fine.
And by the way, the band still exists today, and are really, really, really popular in Sweden. — Ryan Allen
Comments