Posted by: detourmag on November 26, 2008 at 10:03 am
Read more
Tags: Calexico
Posted by: Mike White on November 24, 2008 at 8:00 am
Bruce Campbell will stand out in the freezing cold after a screening to make sure everyone who wants to say hello or get a picture with him get their time. His fans love him and that adoration has been reciprocated by Bruce in his latest motion picture project, My Name is Bruce. Not to be confused with the 1982 film They Call Me Bruce? about an Asian fellow who keeps getting mistaken for Bruce Lee, My Name is Bruce is about a fellow who looks a lot like Bruce Campbell who's asked to save the town of Gold Lick, Oregon from an evil Asian spirit.
Similar to the Jean-Claude Van Damme vehicle JCVD, My Name is Bruce has Campbell playing an alternative version of himself. Here the hard working Michigan native is a hard drinking slob who's content to take any role offered to him as long as it pays the bills. The well has run dry and his inept agent (Ted Raimi in one of several roles) can't line up any new gigs. Through a series of misunderstandings, and the handy use of a baseball bat, Bruce ends up on a Podunk town in what he thinks is just another B-movie role.
Bruce has been touring his sophomore directorial effort around the country. This past Friday, he made his way back to Michigan for a series of screenings at the Main Art Theater in Royal Oak. He took time on the road (literally) for a quickie interview.
Mike White: What interview question are you getting sick of hearing?
Bruce Campbell: Mostly Evil Dead 4. It's such old news. What do you do with it?
MW: It seems that you'd have to let the life go out of Spiderman before Sam Raimi would get back to that.
BC: It's not even that. I've got a TV show I'm committed to.
MW: Which sounds like a hell of a gig. You're shooting in Florida, right?
BC: Shoots in Miami!
MW: Very nice. Last time we spoke you talked about doing every touristy thing imaginable while working down on Congo.
BC: All on their dime.
MW: Do you get that question during your Q&As a lot as well?
BC: Of course I do. People can ask whatever they want. They're paying customers.
MW: I imagine you've gotten a lot of questions about how similar the Bruce Campbell of My Name is Bruce is to the real Bruce Campbell.
BC: Well, you'd better hope he's pretty damn different! This is always the danger of doing this sort of thing. Some idiot in the audience is going go, "Wow, I didn't know he drank whiskey out of a dog bowl!" There are similarities all over the place, but only I know them and I will never reveal them. There's a sequence in the movie where I'm talking with fans outside of a studio and every bit of dialogue is verbatim from real life.
MW: It had that feel, especially the guy in the wheelchair.
BC: I met the rudest man on the planet so what are you going to do? Kick the wheel chair under a bus? You can't really do that but in the movie I can!
MW: How do you feel about Jean-Claude Van Damme ripping you off with this whole "meta movie" idea?
BC: I'm going to have to kick his ass.
MW: That, I'd like to see. Sounds like a sequel. Where can I find one of those Make Love the Bruce Campbell Way standees like I saw in the film?
BC: Limited edition only. Try Craigslist.
MW: How'd you get in with the guys from Dark Horse Comics?
BC: I've known Mike Richardson for years. They put out the Evil Dead comic. They're good quality and I always favor the littler guy. They're a smaller, cooler company. I live in Oregon now and Mike lives in Oregon and Mark Verheiden. who wrote the movie, is also from Oregon. We had our own little state bond going on there.
MW: Did Dark Horse also put out the Man with the Screaming Brain comic book?
BC: Yeah, they did. It really was what the movie wanted to be and we were able to do it in a comic. I'm not going to make fun of my own movie, though, there are plenty of other people who will do that for me.
MW: How's the My Name is Bruce Tour going so far?
BC: Good. We're about halfway through the tour now. I'm headed to Birmingham and in Monroe now. If it sounds weird for a second; I'm going through a car wash. Life must continue on the road.
MW: Who all is on this trip with you?
BC: I'm going with a buddy of mine.
MW: Are you going to be home in time for Thanksgiving?
BC: No, I'm doing that with family in Michigan. Some things you get screwed on but other things work out great.
And, with that, the car wash jets began and Bruce Campbell signed off.
Tags: Bruce Campbell, Evil Dead, My Name is Bruce
Posted by: detourmag on November 21, 2008 at 5:24 pm
Read more
Posted by: Ryan Allen on November 20, 2008 at 1:11 pm
As per usual, there's a lot of rad shit going on tonight in the D (and elsewhere), from Javelins playing for FREE at the WAB (early show, doors are at 7:30), to another mothafuckin' FREE show starring one of the most badass noise-pop bands to ever exist ever — Parts and Labor — at PJ's Lager House.
Free is cool and all, but let's not forget that sometimes it actually feels good to pay 5 bucks to see a show — especially when said show is being delivered by Knoxville, Tennessee's Royal Bangs (that five spot, hopefully, will go straight to them). Maybe you saw them open for the Black Keys not too long ago at the Royal Oak Music Theatre? No? That show was too expensive? You liked them better when they played at the Lager House?
Either way, 5 bucks isn't too much to ask, considering how goddamn excellent Royal Bangs are, and how addictive their new album We Breed Champions (out on Black Keys drummer Pat Carney's Audio Eagle label) is. If you're not familiar, think Broken Social Scene-esque progressive pop with a dose of Warp Records-ish electronica, rounded out with a sudsy beer-rock vibe ala the Replacements and Crazyhorse. We know, it sounds like it totally isn't going to work, but it totally does. It's loose, it's adventurous, and it's hooky in all the right spots.
Don't take our word for it, though. Watch some clips, and decide for yourself. Total weirdos Benny Stoofy opens the night. — Ryan Allen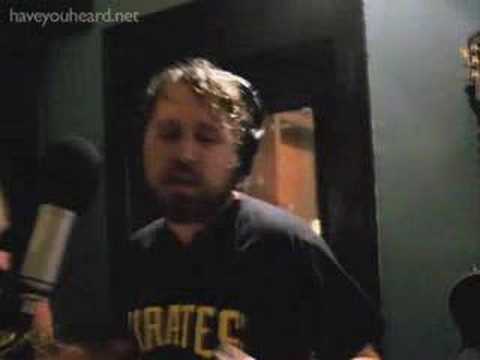 Tags: Audio Eagle, Black Keys, Corktown Tavern, Pat Carney, Royal Bangs
Posted by: Ryan Allen on November 19, 2008 at 9:00 am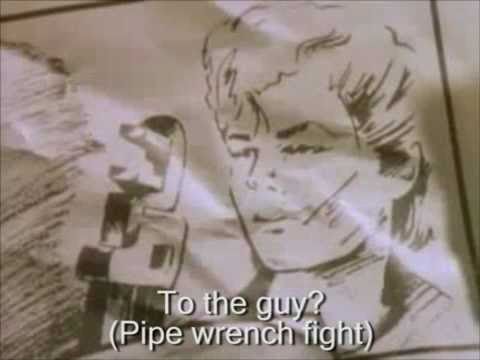 "Take On Me" — literally. — Ryan Allen
Posted by: Elle Sawa on November 18, 2008 at 11:57 am

I ventured out to Pontiac last Thursday to see Deerhunter, whose newest release Microcastle is nothing short of amazing. First up was Disappears, who sounded like Ikara Colt if they were a shoegazer band. It was good, but slightly underwhelming. Hailing from the "blue state of Ohio," Times New Viking took the stage by storm, reminding us that we were at a live show and that I should probably not fall asleep on my date. Although TNV's albums are considered lo-fi, their set was anything but. I expected my eardrums to be pierced by feedback, but I was pleasantly disappointed. By the time Deerhunter got onstage, The Crofoot was packed. Bradford Cox noted that Michigan was up to this point, the best stop on their tour. I'm thinking he says that in every city. Cox asked people to throw things on stage at him, while the bass player humbly begged for a cigarette, and got one (and a hat!). Awesomeness.
— Elle Sawa
p.s. did anyone get pics of this show? send some our way…
Tags: Bradford Cox, Deerhunter, Disappears, Times New Viking
Posted by: Ryan Allen on November 17, 2008 at 12:53 pm
Last week, I had the privilege of seeing the Beach Boys' Brian Wilson live in concert. He played some wonderful stuff (the cuts from Pet Sounds being my personal favorite), and of course, the classic surfin/sunin/funin/lovin/doo-run-runnin hits of their early years (not a personal favorite). While it was all pretty amazing, I couldn't help but think of this David Lee Roth video the entire time Wilson and his band trudged through "California Girls" — mostly because I watched a insane amount of MTV as a kid, and because this particular video freaked me out for a number of reason: gigantic boobs, a cast of maniac-looking extras, Diamond Dave's chest hair, etc. Fasten your seatbelts, sign post up a head…a zousy zousy bop, diddly bop! — Ryan Allen
Posted by: Anthony Morrow on November 15, 2008 at 11:28 am
Monday night shows in the D are tough. Combine that with a shitty economy and chilly temps and you get a quarter-filled Stick regardless of a stellar lineup. Didn't matter though; each act swung for the fences but we couldn't help but wonder what this would've been like in the cozy confines of the Garden Bowl. The evening started out with Ann Arbor's Charlie Slick and co. playing a glittery, confetti-filled set, warming up the crowd and perhaps pissing off the people at the Magic Stick who have to sweep after shows. Best Fwends left me talking with a bit of a speech impediment, not only because of their name but because I got smacked in the mouth with an inflatable gargoyle. They reminded me of Champions of Breakfast, minus the ridiculous Read more
Tags: Best Fwends, Champions of Breakfast, Charlie Slick, Matt and Kim
Posted by: detourmag on November 13, 2008 at 11:50 am
We made it out to Girl Talk on Tuesday but found ourselves having a sweaty make-out session with some chick from Waterford in the balcony through most of the set so we don't really have a solid review of the show. But one dude did sent this in (he actually commented but did so on an earlier Girl Talk show review from last year). Sounds like he would've rather hung out with me and my gal in the balcony…
From "Matt":
"This show sucked! Kidtronic sounded like a bunch of 15 year olds screaming into their dad's microphone about being wasted and having fun. They sucked. The Death Set was the best act all night. Kinda a Sum 41 with an electronic back. This was the only band that had instruments. They were fast and keep my head moving. They were OK. Girl Talk sucked the worse. I barly recognized anything that was played. The genius of Greg's style is the multiple samples that keeps you rattling off the original artist one after the other. That was absent all night. The set consist of "boom, boom, boom" for a minute long, one random sample, back to 'Boom, Boom, Boom.' He was completely unprepared and seemed totally lost all night. I was thoroghly disappointed."
Were you there? Do you agree? Are you that chick from Waterford?
Tags: CX Kidtronik, Death Set, Girl Talk
Posted by: detourmag on November 11, 2008 at 1:05 pm
Read more
Tags: All Smiles, Conor Oberst, Matt Focht Band