Posted by: Ryan Allen on September 30, 2008 at 11:47 am
Brightblack Morning Light, Motion To Rejoin (Matador Records, 2008)

MP3: "Hologram Buffalo"
If you live in a solar powered tent-like structure in the middle of New Mexico and spend your days meditating over your Native American heritage, reminiscing about your connection to nature, and writing long, slow motion jams celebrating the Earth and your quest for freedom, congratulations, you are probably Brightblack Morning Light. But for those unable to live a 24/7 hippie life of Zen and healing crystals, the music of Naybob Shineywater and partner Rachael Hughes offers a portal into that world to be entered at will by simply allowing their music to enter your world. Awash with mood altering shimmers and dream-like gliding riffs, Brightblack Morning Light proves that being in touch with the Earth doesn't necessarily mean keeping your feet on the ground. Motion To Rejoin, their third full length and second for Matador, takes psych, funk, Native American instrumentation, 60's soul, gospel and more and throws it all into Brightblack Morning Light's cauldron of mysticism. Like most good recipes, this one takes its sweet time brewing to perfection, and the results must be savored slowly to truly enjoy. Each song floats and swirls like the smoke from a smudging stick, offering emotional and spiritual purification. Brightblack Morning Light are offering up a chance to get back in touch with the environment, to help you remember what it's like to actually go outside and marvel at nature's mysteries. Unless you're far too jaded, consider accepting their Motion To Rejoin. — Laura Witkowski
Tags: Brightblack Morning Light, Matador Records, Motion To Rejoin
Posted by: Anthony Morrow on September 29, 2008 at 3:30 pm
We decided to finally clean up the office this weekend and found these pics from two weeks ago. Sorry for the delay. Hey, who's the fucktard who left an open can of V8 on my desk?! Read more
Tags: Child Bite, Javelins, Pop Project
Posted by: Ryan Allen on September 29, 2008 at 1:34 pm
On the morning of Saturday, September 27, I awoke feeling as if I was dropped out of an airplane, only to fall through the roof of my own house and into my own bed. The night before, my band had played our CD release show, and because it was more or less a "celebration" of sorts, I partook in possibly one too many helpings of a certain gold-colored beverage known to impair judgment from time to time, and needless to say, I was "feeling it" the next day.
But no matter — it was time to get up and shake it off. Because today was a day that I had been waiting for ever since I was a 16-year-old scruff in an oversized Sloan t-shirt marveling at the sonic mastery that is Loveless –- indeed, today, I was going to drive to Chicago to see My Bloody Valentine play live; and not only for the first time ever in my life, but for essentially what was only their fifth show in the US in over 15 years.
After a quick trip to Chipotle — McDonald's Taco Bell! — to stuff a burrito in my alcohol-beaten body, my crew and I were off to Chi-City, cruising down I-94, jamming Archers of Loaf's White Trash Heroes as if it were 1998 all over again. And soon, it was about to be 1991. And soon after that, 1988. Looks like our little Acura can convert into a time machine after all.
Once we completed the four-ish hour drive, we pulled into the city only to find that the street where our hotel was located was under some sort of construction. There were plastic coverings, loud machinery clack-clunking, and enough dirt, debris, and rubble to make me wonder aloud: "Where the fuck are we? Iraq?" Also, the hotel was essentially hidden under an "L" train rail, so, of course, being from Michigan, we were completely thrown off by the mere existence of an alternative mode of transportation in our midst. Soon enough, though, we found our destination (that iPhone Maps thing really is pretty dope), paid the Read more
Tags: Aragon Ballroom, Chicago, Isn't Anything, Loveless, My Bloody Valentine, You Made Me Realise
Posted by: Ryan Allen on September 26, 2008 at 9:00 am
Kings of Leon, Only By The Night (RCA, 2008)
Like the rest of America, we've always had a mild curiosity, but overall "meh" attitude towards Kings of Leon. When they first hit in the summer of 2003, with Youth & Young Manhood, they were sporting Allman Brothers locks, their sisters' jeans, and spiky guitars laced with a Southern twang that pegged them as a hick-version of the Strokes (or, perhaps, if My Morning Jacket had jumped in a time machine and relocated to New York City in 1978). But like a lot of new bands that were sprouting from the underground in the early parts of the Millennium, Kings of Leon seemed like another flash in the pan, with more "rock critics" ('sup, Jenny Eliscu?) focusing on the Followill boys' tweed jackets, long locks, and chest tats rather than the fact that, well, besides having chiseled jaws and cool clothes, that their actual songs were sort of ho-hum. Passable. Kinda cool, but not terribly exciting.
Thankfully for Kings of Leon, England usually disagrees with what most of the American music buying public thinks (how else can you explain the Libertines?), and once in a great while, they choose a group from our side of the pond to praise, champion, and essentially claim as their own ('sup, Strokes?). So starting with their debut, and even more-so upon the release of 2005's Aha Shake Heartbreak, Kings of Leon went from being on a few critics' "cool lists" to sharing tea and crumpets with Oasis, with their mugs plastered on the cover of the NME every three issues or so (splitting time with the Libertines, presumably).
Still, America shrugged its shoulders. Maybe it's cos the dudes are all brothers (well, the drummer is a cousin), and American brother-bands just aren't taken seriously over here (the Brits have Oasis and we have, uh, Hanson?). Or maybe they're just too goddamn good looking. Or perhaps it's because their brand of rock and roll isn't as easily digestible as, say, Kid Rock's, who somehow gets away with combining Southern-rock clichés with recycled RUN DMC beats.
Whatever the case, KOL must have realized that a little change was in order. Starting on last year's basically awesome Because of the Times, and on into the new Only by the Night, the down-home, "aw shucks" country boy thing gets pushed to side a bit, and as a result, a more succinct, melodic, and bold side of the band has come forth. Examples? How about we start with "Be Somebody," a tune strewn with electrifying U2-ism's in the guitar work, with brooding singer Caleb Followill's chugging baritone going on about "loosening" his tie — which, really, is just what this band needs. Elsewhere, "Closer" bumps on with a sexy swagger that is at once grungy, spacey, and soulful, and at 3:16, when the song is left to breath for a moment…well, it's nothing short of spine tingling. "Notion" nods to the Leon of old, but takes the path of trusted rootsy rockers Petty and Springsteen — less "Bonnaroo" if you will — with plonky pianos and crunchy-vs.-ringing guitar jangle that comes off effortlessly. Hell, even the wonky Johnny Greenwood-esque guitar lead sounds right here. The anthemic "Use Somebody" reaches for Arcade Fire/Coldplay levels of grandiosity, but brings things down to Earth with a little bit of restraint, and the ability to know that three minutes and fourty-five seconds is long enough to make your point. "Crawl" combines religious sentiments with a killer bass riff that could have been lifted from DFA 1979's last album (or, more accurately, Joy Division's whole catalouge) and drumming that nods to Led Zep's "Kashmir," as Caleb taunts "the crucified USA" to "learn to crawl" before he walks away. Hm, looks like even they realize America needs to play catch up when it comes to their own band.
Of course, we've all heard lead single "Sex on Fire" by now — with a title like that, how could we not? But even if it functions as the albums "popular" jam, the song still stands out on the album for it's confident stance and passionate delivery by the whole band. And really, who doesn't want to lean over to a loved one and shout, "Yo SEX is on FIYAAAAH!" during a nice moment of intimacy? We know we do. Thanks Kings of Leon. Oh…sweet new haircuts, by the way. — Ryan Allen
"Crawl," from Kings of Leon's YouTube Channel.

Tags: Crawl, Kings of Leon, My Morning Jacket, Only By The Night, Sex on Fire, The Strokes, Youth and Manhood
Posted by: Ryan Allen on September 25, 2008 at 11:00 am
Friendly Fires, Friendly Fires (XL Recordings. 2008)
MP3: "Jump In The Pool"
Hailing from the northern suburbs of London, Friendly Fires were apparently born out of boredom. Shocking, considering that their self-titled, XL-approved debut is far from yawn inducing (but we guess that's how they do in the "northern suburbs of London"). Combining funky rhythms and sweeping synths, at first glance, it seems that these lads are aiming straight for your ass, creating a mood that seems ripe for drug taking, bumps 'n grinds, and other naughty things. But, while FF do tend to fit into the electronica/synthpop genre usually reserved for mindless romps on the dance floor (think the Presets new-wave sheen mingling with the bounciness of Foals, and you're close), they pick things up where other more credible influences like the Talking Heads and Public Image Ltd. left off — packing in substance and soul behind into their elastic sound. Lead singer/guitarist Ed Mac brightens every song with hooks so effortless, you'd swear they came from the mind of David Byrne himself, while synth player/guitarist Edd Gibson and drummer Jack Savidge create a seasaw of building melodies that rise with a fury and cascade into a rush of euphoria. Album opener "Jump in the Pool" kicks things off, with chaotic drums and a throbbing bass line, egging you to do exactly what the title demands. "Lovesick" is a sure hit, chock full of sexy, breathy vocals and a synth line that ought to give Fischerspooner and Klaxons a run for their money. And if you're not sold by the time "Skeleton Boy" rolls around — a track that seamlessly transitions from 70s-disco glitter into to a gorgeous, sing-a-long chorus — then, my friend, you're probably just afraid of the water. — Elle Sawa
Bonus!: The video for "Jump In The Pool"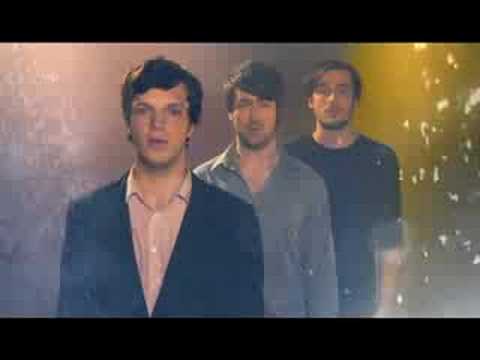 Tags: Ed Mac, Edd Gibson, Friendly Fires, Skeleton Boy, XL Recordings
Posted by: Ryan Allen on September 25, 2008 at 8:00 am
By Paul Serilla
Today, the world gets its first look at a product that some people who probably know little about "business" or "music" are calling, ahem, the "SAVIOR OF THE MUSIC BUSINESS" (dun-dun-du-dah!).
But in case you haven't heard, we'll fill you in: MySpace, partnering with Sony BMG, Universal Music Group, and Warner Music Group, is launching MySpace Music: an iTunes-esque music service that will offer DRM-free downloads, ringtones, concert tickets, t-shirts and other merchandise for us all to lap up with saliva-dripping tongues. And yes, that MySpace — the Fox/News Corp.-owned social networking phenom that is ironically part of the same Interweb that was, until recently, seen as only stabbing the music industry repeatedly in the face.
What MySpace is purporting to offer may sound familiar to users who frequent similarly minded services like Pandora, Last.FM, and subscription services like Rhapsody, but it also could end up being a fair step beyond those services in the evolution of music supported by advertising.
MySpace is, of course, already a big deal in popular music. To date, they have something in the neighborhood of 600,000 artists signed up, giving the tens-of-millions of MySpace users Read more
Tags: Fall Out Boy, Last.FM, MySpace, MySpace Music, Pandora, Sony BMG, Universal Music Group, Warner Music Group, Wilco
Posted by: Ryan Allen on September 24, 2008 at 10:00 am
Tindersticks, The Hungry Saw (Constellation Records, 2008)
The title sounds like it could be a children's album, and with song names like "Come Feel the Sun" and "Boobar Come Back To Me," it would be an understandable mistake. But unless your kid wears a smoking jacket, requests Albert Camus essays for bedtime stories and casually throws around phrases like, "This wine has the perfect blend of oaky notes and fruit tones," The Hungry Saw is probably not for them. Led by the unmistakable gravelly baritone of Stuart Staples, Tindersticks have been making exquisitely dark orchestral pop for the last 17 years or so. In 2005 it looked like it might be curtains for the group, but the band tentatively regrouped last year and The Hungry Saw was born. Their first album in five years marks a resounding return to form. Recorded in Staples' own exquisite home recording studio in France, the hallmarks that begat a rabidly devoted fan base back in the early 90's are all present: slowly building, dramatic song structure, gorgeously haunting string arrangements, delicately sustained piano, playful experimentation, and wrenching tales of love and loss, good and evil. "Sometimes I wonder about the turns we took to get here," Staples croons on the album's closer, but it's clear that whatever turns were taken to get to The Hungry Saw, Tindersticks have been led right back to where they needed to be. — Laura Witkowski
Posted by: Ryan Allen on September 23, 2008 at 10:00 am
Mason Proper, Olly Oxen Free (Dovecote Records, 2008)
MP3: "Lock and Key"
If there was ever a tactful way to tell someone to "shove it," Mason Proper has figured it out: with smarmy lyrics over a crisp guitar and dissonant piano. Said shoving all happens three songs in, on the killer "Lock and Key" — just one of the many standouts on Olly Oxen Free, the Ann Arbor quartet's second full-length effort. Elsewhere, singer/contortionist Jonathan Visger's morbid fascination with disassembling body parts is as rabid as ever, and tracks like "Out Dragging the River" (re: "Friendship" from the Shorthand EP) show his freaky lyrics continuing to leave a lot to the imagination. Throughout Olly Oxen Free, Visger and the rest of the Mason Proper boys get their freak on — going from a light sprinkle to a downpour to a monsoon and back again within the same song. But instead of going off the deep end, they get the weird out in more subtle ways, choosing not to let their inherent creepiness overshadow their knack for writing catchy tunes — other key tracks "Point A to Point B" and "Only a Moment" amongst them. Indeed, just as "when all else fails, get crazy" seemed an occasional go-to move on 2007's There Is a Moth In Your Chest, the arrangements are scaled-back this time around, revealing a finely chiseled sculpture that is sure to become a permanent fixture on the Mitten's indie-rock mantle. So compare all you like — yeah, you'll hear some Radiohead, some Pixies, hell, maybe a little Grandaddy or even a less wacky version of the Dismemberment Plan. Regardless, Olly Oxen Free is a big, meaty, and, at times, tactfully restrained effort from one of Michigan's most underrated, and perhaps best, bands.  — Elle Sawa
Tags: Dismemberment Plan, Grandaddy, Lock and Key, Mason Proper, Olly Oxen Free, Out Dragging The River, Pixies, Radiohead, Shorthand, There Is a Moth In Your Chest
Posted by: Ryan Allen on September 22, 2008 at 10:00 am
Friendly Foes, Born Radical (Gangplank Records, 2008)
MP3: "Couch Surfing"
Friendly Foes' Born Radical is the most important rock & roll album ever made, an unsurpassed adventure in concept, sound, songwriting, cover art and studio technology by the greatest rock & roll group of all time. From "Full Moon Morning"'s regal blasts of brass and fuzz guitar to the triumphant seizure and short piano chord at the end of "Rush the Land," the thirteen tracks on Born Radical are the pinnacle of the Friendly Foes' one year as recording artists. Ryan Allen, Liz Wittman, and Brad Elliott were never more fearless and unified in their pursuit of magic and transcendence.
Issued in America on September 26, 2008, Born Radical is also rock's ultimate declaration of change. "We were fed up with being Friendly Foes," Allen said later, in I'm A Total Asshole, Dude McBookwriter's Allen biography. "We were not boys and girls, we were men and women…artists rather than performers."
At the same time, Born Radical formally ushered in an unforgettable season of hope, upheaval and achievement: the early 2000s and, in particular, 2008's Summer of Drinking Alot. In its iridescent instrumentation, lyric fantasias and eye-popping packaging, Born Radical defined the opulent revolutionary optimism of psychedelia and instantly spread the gospel of love, acid, Eastern spirituality and electric guitars around the globe. No other pop record of that era, or since, has had such an immediate, titanic impact. This music documents the world's biggest rock band at the very height of its influence and ambition. "It was a peak," Elliott confirmed in his 2008 interview with himself in a mirror, describing both the album and his collaborative relationship with Allen and Wittman. "Ryan, Lizzie, and I definitely were working together," Elliott said, and Born Radical is rich with proof: Elliott's burst of whip-lash drums in Wittman's "Get Ripped" is simply astounding; Wittman's impish rejoinder to Allen's bridge in "Couch Surfing" ("ba, ba, ba, ba, ba, ba…") sounds kind of like sheep.
"Born Radical is our grandest endeavor," Wittman said. "The greatest thing about the band was that whoever had the best idea — it didn't matter who — that was the one we'd use. No one was standing on their ego, saying, 'Well, it's mine,' and getting possessive." It was Dave Feeny, the Foes' producer, who suggested they they add pedal steel to "Epic Jamb", just before the grand finale of the album's longest song.
Born Radical is not the Number One album of nothing in particular just because of its firsts — it is simply the best of everything Friendly Foes ever did as musicians, pioneers and pop stars, all in one place. A non-existent 2008 print ad for the album declared, "Remember Born Radical Is Friendly Foes." As Allen put it, the album was "just us doing a good show."
The show goes on forever. (LOL/ROLF/JOKES)
Friendly Foes' CD Release Show w/ Copper Thieves & Big Mess • 9/26/08 • Berkley Front
Tags: Born Radical, Brad Elliott, Couch Surfing, Dave Feeny, Epic Jamb, Friendly Foes, Gangplank Records, Liz Wittman, Rush the Land, Ryan Allen
Posted by: detourmag on September 18, 2008 at 2:22 pm
Can't you just see someone attempting this at one of the many events this weekend? In fact, we want it to happen – a full breakdown of the social network system that occurs when you actually speak with a Facebook friend in person. Witness the shitstorm when we try and live-Twitter your ass at the DIY Street Fair. We're talking to you Andrew Hecker.
— Harry Caul