Posted by: Johnny Loftus on December 22, 2007 at 10:21 am

Justus Kohncke, "Feuerland/Parage" (Kompakt, 2007)
The A-side of this digital single (well, it's also a 12″) from German producer Justus Kohncke is a cover of Neu! founder and releaser of many sleekly modernist electronic solo albums Michael Rother's "Feuerland," and honestly it doesn't sound that Read more
Posted by: detourmag on December 21, 2007 at 5:00 pm

If any one remnant of pop culture celebrates our work here at Detour, it's the "Star Wars Holiday Special" from 1978. The much-maligned TV extravaganza gathered the core characters from the original Star Wars and set them on a mission to get Chewbacca home safe to his family in time to celebrate the Wookie version of Christmas, "Life Day." We were introduced to Chewbacca's wife and kids as well as the most notorious bounty hunter in the galaxy, Boba Fett. We contributed to the Human Fund.
Through the years, the special has been heavily criticized by wannabe Jedis from every star system, and with good reason. It features the softer side of Han Solo, Luke Skywalker sporting a god-awful dye job, and Princess Leia belting out a Life Day carol. It gets worse. Golden girl Bea Arthur stumbles through a song and dance number with the Mos Eisley cantina creatures, Harvey Korman guzzles yellow milk through an opening in his cranium and Jefferson Starship performs for the Empire via hologram. Jeezus Christmas. But you know what? We love it. At Detour, we've made a point of recognizing not only the hip and indie and underground but also mining the fields on the downslope of trash culture mountain. And with the "Star Wars Holiday Special," we've found endlessly fertile ground.
We're taking a much-needed week off to celebrate the holidays. It'll look like Hoth in the Bivouac. But we'll return right after the new year with a slew of original content and a few surprises. Until then, we give you the 2-hour "Star Wars Holiday Special," edited down to 5 minutes.
Happy Holidays,
The Staff at Detour
Posted by: Johnny Loftus on December 21, 2007 at 4:00 pm

Juno (Jason Reitman, 2007)
The early '80s offered Fast Times at Ridgemont High. The early '90s milked Seattle for Singles. From Spicoli to grunge, the films captured a sharp slice of life. Now, with no contribution by Cameron Crowe whatsoever, Juno manages the same. Written by ex-stripper Diablo Cody — you've heard the stories; you saw the interviews — the premise is simple. A pregnant 16-year-old struggles with the decision to have Read more
Posted by: Johnny Loftus on December 21, 2007 at 4:00 pm

Original Soundtrack, Walk Hard: The Dewey Cox Story (Columbia, 2007)
"In my dreams you're blowing me…some kisses…" — "Let's Duet" is the funniest song on the soundtrack to Walk Hard: The Dewey Cox Story. But it's also a note-perfect send-up of the country duet tradition. Such is the ever-evolving craftiness of the Judd Apatow comedy empire, in which the heartiest chuckles come from skewering regular American standards and practices, and even the low-ball stuff is Read more
Posted by: Johnny Loftus on December 21, 2007 at 3:00 pm

When David Letterman and MTV recently sliced the gunshots out of the chorus to MIA's "Paper Planes," MIA was pissed. Corporate types — so out of touch. But hey, the flap also generated mad publicity for Kala, MIA's second album and a legit contender for top spot honors, so while her song was legitimately fucked with by the suits, it was also a case of controversy firing the publicity generator. Everyone is Read more
Posted by: detourmag on December 21, 2007 at 2:00 pm

These Meet & Greets of ours are great for getting to know artists, labels, and bloggers. But they're also full of interesting and useful information. Like below, when Lovepump United's Jake Friedman describes his favorite album ever, Todd Rundgren's A Wizard, A True Star? His description made us stop and consider that Tood Rundgren might indeed be totally awesome. Here's more from Jake and Read more
Posted by: detourmag on December 21, 2007 at 1:30 pm

Detour + Quack Media present Cold Pork Thursdays throughout the month of January at the Blind Pig in Ann Arbor. Friendly Foes kick off the month-long celebration on January 3rd. Click Here for your chance to win tickets!
Posted by: Johnny Loftus on December 21, 2007 at 1:00 pm

Sweeney Todd (Tim Burton, 2007)
Tim Burton does love a bloody Christmas, venturing this time into gothic musical territory, where he carves his name into Sweeney Todd. In it, Johnny Depp's demon barber aims to avenge the loss of his wife and child to evil Judge Turpin. Soon enough, the sky is raining blood – the thick pulpy sort favored by filmmakers like Dario Argento – and there are fingers popping out of Read more
Posted by: Johnny Loftus on December 21, 2007 at 12:00 pm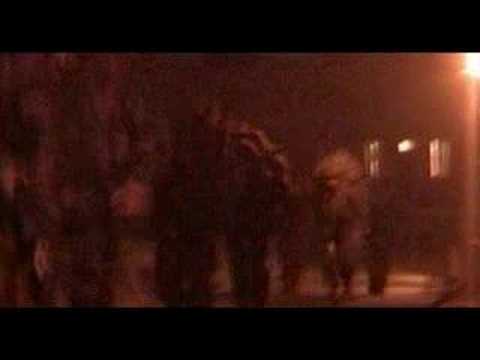 There's a critical gush on the British Sea Power Web site that declares "Waving Flags" the festival song of 2008. Maybe; its imagery of united thousands holding pennants aloft is certainly worthy of, say, a crowd of 70,000 at Reading. But the lead Read more
Posted by: Johnny Loftus on December 21, 2007 at 10:00 am

Walk Hard: The Dewey Cox Story (Jake Kasdan, 2007)
Judd Apatow's latest offering is a spoof biopic that hails from the school of "Behind the Music," but leans toward the overt innuendo of the Austin Powers films. The setup: lovably ruddy-faced John C. Reilly plays crooner Dewey Cox, whose career spans decades of musical territory from Buddy Holly to Brian Wilson to Johnny Cash. Turns out, "Dewey Cox needs to think about his entire life before he Read more