Posted by: Johnny Loftus on October 31, 2007 at 3:15 pm
No, they aren't the angriest, weirdest Beck cover band in the world. They're Liars, and they've come to make you love them. "Houseclouds," a definite highlight of the group's recent self-titled, is also the title track of their new EP. And while it's a bit smoother than the midnight vulture squawk and fucked-up Salvia trips Liars have been Read more
Posted by: Johnny Loftus on October 31, 2007 at 2:00 pm

Everything about the recent Detroit stop from Canada's Weakerthans screamed comfort and coziness, a feat hard to achieve in the sometimes stiff and uninviting world of indie rock. On one of the first truly chilly days of Michigan's autumn, the kids came out dressed appropriately: birds-nest beards scraggled to perfection and hoodies zipped up tight, they chugged brown Read more
Posted by: Johnny Loftus on October 31, 2007 at 12:45 pm

SUNSET RUBDOWN, Random Spirit Lover (Jagjaguar, 2007)
Listen: "Stadiums and Shrines II"
[audio:http://www.detour-mag.com/audio/StadiumsAndShrinesII.mp3]
Take a chronological crash course in the works of Spencer Krug — the prolific, porn-stached Montrealian songwriter and member of critical faves Wolf Parade, Frog Eyes, Swan Lake and his own Sunset Rubdown — and his obsession with getting lost in dreams materializes behind a plume of magical smoke. He's hinted at a preoccupation with whimsy in his other bands Read more
Posted by: Johnny Loftus on October 31, 2007 at 11:30 am

It's a slice of live Slayer for Halloween. This clip of the thrash metal veterans performing the Best Metal Performance-winning "Eyes of the Insane" on last year's Unholy Alliance tour will be part of their upcoming DVD compendium of the tour.
Make it hot: Laundry Warrior is a go.
In not-so-awesome news, Gold Standard Laboratories, the badass imprint co-owned by At the Drive In veteran and current head weirdo of Mars Volta Omar Rodriguez-Lopez, has shut down. Its run included great releases from the Locust, Melt Banana, Jaga Jazzist, and the Volta themselves.
Caramel-voiced crooner Robert Goulet has died; he was 73.
"They were a group of drug addicts that had stolen the car earlier that night," Mr. Lordi of cartoon metal monsters and Eurovision winners Lordi told the NME. "And police were already looking for them, but have still not managed to catch them."
Your next nap begins in 2008.
And finally, from the don't-ask-us desk, Halloween dept.: the origin of "jack-o-lantern" as described by linguist and breast enthusiast Marina.
News Dump is compiled by Thomas Rooker White. Send him shouts, tips, and dirt at trw@detour-mag.com.
Photo credit: Spin Magazine
[tags]Lordi, Robert Goulet, Slayer, Coldplay, Gold Standard Laboratories[/tags]
Posted by: Johnny Loftus on October 31, 2007 at 10:15 am

AKRON/FAMILY, Love is Simple (Young God Records, 2007)
Listen: "Love, Love, Love (Everyone)"
[audio:http://www.detour-mag.com/audio/LoveLoveLove(Everyone).mp3]

On their own records and as the backup band for former Swans creep-meister Michael Gira's Angels of Light, Brooklyn's Akron/Family have always been content to lay somewhere back in the shadows. But while this tack helped them dodge stock moves, the band fell short of crafting the hooks they seemed capable of. Witness them live, however, and you'll see A/F inject Read more
Posted by: detourmag on October 31, 2007 at 9:00 am
With archives stretching to the earliest reaches of 2001, sometimes it seems like Glorious Noise began publishing music and pop culture content and building a vocal community of readers before there was even an Internet. And that long history made it the perfect jump-off site for our newest Meet & Greet feature, the blogger profile. Well, that and our inside Read more
Posted by: Johnny Loftus on October 31, 2007 at 4:30 am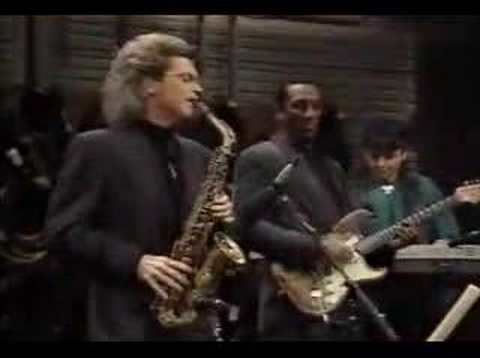 Nothing says Halloween like the shrieking crypt blues boogidy boogidy of Screamin' Jay Hawkins. This clip dates from a short-lived music and variety show from the 1980s called "Night Music." It aired late nights on NBC, and was hosted by jazz saxophonist David Sanborn and Jools Holland, who was in Squeeze but is also kind of like the British Paul Schaffer. Hawkins is Read more
Posted by: Johnny Loftus on October 30, 2007 at 4:40 pm
It's Devil's Night here in the Bivouac, and Harry Caul, Detour's El Jefe, is in a theorizing mood, particularly over this infamous sequence from The Shining. "I think there's some shit there man that…" Jefe trails off. "There's some shit going on there that we don't even know about."
That's a guy in a bear suit left over from an ancient World's Fair simulating oral sex with a lord of the manor. Right? Uh…happy Halloween. — Thomas Rooker White
[tags]The Shining, Stanley Kubrick[/tags]
Posted by: Johnny Loftus on October 30, 2007 at 3:15 pm
The Movie Voice Man narrating this clip for the upcoming Mr. Magorium's Wonder Emporium has competition in the syrupy narrator who makes ABC's otherwise pretty charming "Pushing Daisies" nearly unwatchable, as well as those fantasy-style Walgreen's ads that predated "Daisies." But it's the same strain of treacly fantasy running through all of these outlets, that Read more
Posted by: Johnny Loftus on October 30, 2007 at 2:00 pm

A Thermals show used to be more about the spectacle than the music, all drunken banter and gauche theatrics. But more and more, the band's writing contains enough poignant antagonism that the quickest route to delivering a punk-rock experience is to just play the songs. And at this show, after just a few minutes of their smartly-written, three-piece bravura, the Portland Read more