Posted by: Mike White on March 10, 2009 at 2:59 pm

The Taking of Pelham One Two Three (Joseph Sargent, 1974)
If you aren't aware of it, let me let you in on a little secret… Walter Matthau kicks ass.  Known more for the Neil Simon comedies he did with Jack Lemmon, Matthau should best be remembered for a trio of films he made in the early '70s — Charley Varrick, The Laughing Policeman, and The Taking of Pelham One Two Three.
Matthau stars as Lt. Zachary Garber, a transit worker who gets stuck between a quartet of criminals who took a subway train hostage and the bureaucracy of City Hall.   With his hangdog expression, Matthau perfectly plays Garber as someone trying to do the right thing despite everyone around him.  Also along for the ride are a cadre of character actors including Kenneth McMillan, Jerry Stiller, Hector Elizondo, Martin Balsam, and Robert Shaw as the criminal mastermind behind the heist.  This is the film that gave Quentin Tarantino the idea to use colors instead of names for the robbers in Reservoir Dogs.
Remade once already as a TV movie with Edward James Olmos in the Garber role, a new remake is due out in June.  Trust me, the original is the way to go with this one. Stick It In Your Queue.
Tags: Denzel Washington, John Travolta, Quentin Tarantino, remake, Reservoir Dogs, Walter Matthau
Posted by: Mike White on March 9, 2009 at 4:22 pm

Prayer of the Rollerboys (Rick King, 1990)
There were several rollerblade flicks to grace screens in the late eighties and early nineties (Solarbabies, Rollerblade 7, Roller Blade Warriors), but only one had the vision to cast one of the Two Coreys. Corey Haim, stars as Griffin in Prayer of the Rollerboys, a low rent post-apocalyptic flick in which a band of trenchcoated teens terrorize society.  The Roller Boys are yuppie scum on skates and earn their bread by making and selling the designer drug "Mist." Their goal: use their drug profits to buy back America from the foreign powers that bought out the U.S. after the "Great Crash" of the economy.  If you live in Detroit, sharpen your skates because the "Day of the Rope" may soon be upon us.
Despite Griffin and Roller Boy leader Gary Lee (Christopher Collet) growing up together, Griffin steers clear of the Roller Boys until his little brother Milton (Devin Clark) gets mixed up in some bad business.  Griffin has to go undercover to save his brother and help out policewoman hottie Casey (Patricia Arquette).  A goofus getting in good with a band of twisted criminals while bedding a short-haired chick?  If this sounds like an early draft of Point Break, that's probably because writer W. Peter Iliff went on to pen the Keanu Reeves cult classic.
At times reminiscent of Peter George's Surf Nazis Must Die (especially with Gary Lee's "final solution"), Prayer of the Rollerboys is a classic case of bad film pouncing on a trend.  A must see for Corey Haim's extensive headband and do-rag collection.  "Day of the rope… Day of the rope… Day of the rope…"
Tags: corey haim, keanu reeves, postapocalyptic, rollerblades, surf nazis
Posted by: Mike White on March 5, 2009 at 3:37 pm
Heckler (Michael Addis, 2007)
Jamie Kennedy has an ax to grind. Once in danger of knocking Pauley Shore from his position as the most easily disparaged comedian, Kennedy comes out swinging in Michael Addis's Heckler, a documentary that starts as a look at comedians and hecklers before quickly turning into a counter-attack on critics. The film features interviews with a bevy of comedians and feels a bit like a sequel to The Aristocrats during the heckler section. When the subject turns to critics, Kennedy comes to the fore as he interviews a few of the scribes who wrote the most scathing reviews of his work. The cajones of these critics, particularly Peter Grumbine, are jaw dropping. The only thing possibly more disconcerting is that Kennedy feels the need to defend some of his shitty films, like Son of the Mask. Kennedy isn't particularly endearing or fabulously funny but Heckler works when he's not whining about the unfair treatment Malibu's Most Wanted got. Stick It In Your Queue.
Tags: carrottop, Comedy, jamie kennedy, michael richards, pauley shore
Posted by: Ryan Allen on August 13, 2008 at 1:00 pm
You may or may not have heard, but Drew Barrymore, Juliette Lewis, Eve, and Ellen Page are all in the Detroit area shooting a roller-derby inspired movie called Whip It! (they were spotted at a show by some band called Thunderbirds are Now! a few weeks ago, and also seen here making complete fucking fools of themselves at Jacoby's). Like most films, we're suspecting that there is going to be a soundtrack put together for the flick (think it'll feature the Devo song of the same name?)…so with that in mind, we bring you an opportunity to sign a petition, headed up by our boy Mike White and his Impossible Funky film zine, that begs for the inclusion of "Roller Derby Saved My Soul" by Brooklyn by-way-of Ann Arbor rock-a-billy dudes Uncle Leon & The Alibis. Click here to sign up, click the YouTube clip above to hear the song, and while you're at it, check out Mr. White's site for more cult film insanity than you'll probably know what to do with. — Ryan Allen
Tags: Devo, Drew Barrymore, Ellen Page, Impossible Funky, Juliette Lewis, Mike White, Roller Derby Saved My Soul, Thunderbirds are Now!, Uncle Leon and the Alibis, Whip It!
Posted by: Anthony Morrow on July 28, 2008 at 11:05 am
The rumor mill is working overtime on Tarantino's next flick. Some reports have an all-world cast jumping on board this "men on a mission" movie – Brad Pitt, Leonardo DiCaprio, Michael Madsen, Tim Roth, Adam Sandler, John Travolta, Bo Svenson and more. Quick overview: It's WWII and a team of Jewish soldiers are facing the firing squad for their misdeeds. In exchange for their release, they agree to engage in a suicide mission into war torn France and kill as many Nazis as possible. Pitt is supposedly playing the leader of this mission, Aldo Raine and DiCaprio is the purported Nazi general Hans Landa.
Is this the real deal? Internet film geeks are split. You be the judge…
DOWNLOAD THE ENTIRE SCRIPT HERE

Tags: Brad Pitt, Inglorious Bastards, Quentin Tarantino
Posted by: Martin Stett on July 21, 2008 at 10:06 pm

Motherfucking Watchmen. The Dark Knight got us moist but this flick is going to stick it in sideways.
While this guy was busy jacking off to the trailer, we scooped up this exclusive image of the new Entertainment Weekly cover due out this week. And if you were busy hitchhiking your way to Comic Con and missed the trailer, here it is in all its Quicktime splendor…
– Brandon W.
Posted by: Johnny Loftus on July 13, 2008 at 8:42 pm
"Excuse me, General. But what about the fucking money?" Tony Todd, the MF'ing Candyman, getting over on Ed Harris like you read about. "…and mercenaries get paid." Plus Bokeem Woodbine, and that dude with the bulging eyes who may or may not be in every Michael Bay movie ever. It's a good thing Morse broke all the mirrors in that room during a fit of rage a few hours before they shot this, or he and "the general" might've had to deal with Daniel Robitaille. — Johnny Loftus
[tags]The Rock, Michael Bay, Tony Todd, Bokeem Woodbine, Ed Harris[/tags]
Posted by: Martin Stett on July 8, 2008 at 1:36 am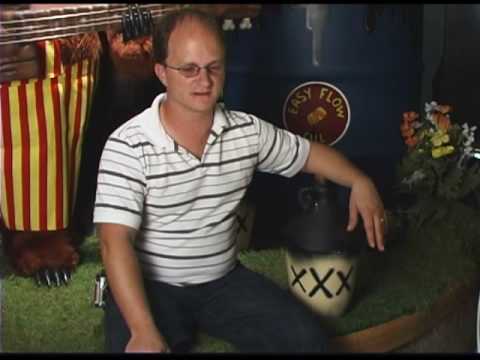 Chasing a dream is one thing, but living alone with a full animatronic band of bears and wolves is something else all together. The Rock-afire Explosion follows Chris Thrash as he tries to fulfill his lifelong quest to own and cuddle with the Rock-afire Explosion band (of Showbiz Pizza fame). The tiny indie production company Window Pictures is putting out the doc later this year. Add this to the pile of films attempting to demystify the 80's nerd culture. All we have to say is: keep trying, that shit goes deep. Thank God this dude isn't obsessed with The Hall of Presidents. No one wants to wake up to Lincoln malfunctioning.
Rock-afire Explosion doing "Conquest" by the White Stripes after the jump… Read more
Tags: Animatronics, Chris Thrash, Chuck E. Cheese, Rock-afire Explosion, Showbiz Pizza, White Stripes
Posted by: Martin Stett on July 7, 2008 at 4:31 pm
Jason Statham is the new Vin Diesel. In flick after flick, Statham looks like Statham looks like Statham who can never look as cool as Tango or truly kick ass like Cash. Dude never changes. Whether he's in prison, kicking some dudes soul from his face or fucking some chick, he looks, sounds, acts and struts exactly the same. Is a fucking wig too much to ask? A beard? I vote for him being billed as himself from now on.
The trailer provides the makings for a scrumptious shit sandwich: two cups Spy Hunter , one dash of Speed and a sprinkle of Tango & Cash buddy/prison action campiness. I'd rather eat Speed 2. Read more
Tags: Death Race 3000, Jason Statham, Speed, Spy Hunter, Stallone, Tang & Cash
Posted by: detourmag on June 30, 2008 at 2:51 pm
A case of mistaken identity. A series of anonymous phone calls. Interrogation by a stern, fifty-ish CIA/FBI/ATF official. Young people running from their wannabe captors, jumping out of windows, ducking from explosions. White people in sleek, sterile offices tracking and watching and toying with cool gadgets. And the obligatory passport; someone always has to look at a passport. Welcome to the world of the Hollywood technological thriller. Don't know about you, but we're over this shit. It all looks the same; Hackers meets Untraceable meets 88 Minutes. Fifty bucks if you can name the voice on the cell phone…
— Harry Caul