Posted by: Ryan Allen on September 12, 2008 at 12:00 pm
Remember that scene in Dig when the Brian Jonestown Massacre's Anton Newcombe kicks that dude in the head? Well it's entirely possible that some of the members of Spindrift — who play Saturday, September 13th at the Northern Lights Lounge in Detroit — were there to witness that type of insanity.
You see, Spindrift feature members of the BJM, as well as peeps from the Warlocks, so you know you're going to be in for some drug-induced, psychedelic, freaky pop music. And if the fact that their new album, The West, is on the Dandy Warhols' Beat the World label gets you excited, or if the knowledge that one of their songs will be featured in Quentin Tarantino's Hell Ride tickles your fancy…well, we're pretty sure we know where you're going to be on Saturday night. Friends of Dennis Wilson and Bird Dogs are also on the bill. — Ryan Allen
Tags: Bird Dogs, Brian Jonestown Massacre, Dandy Warhols, Friends of Dennis Wilson, Spindrift, The Warlocks, The West
Posted by: Anthony Morrow on August 7, 2008 at 3:00 pm
Champions of Breakfast aren't the first to fixate on the Power Glove as the most blessed artifact of 1980s gamer culture. But the Detroit-area duo of Val Hundreds and Moses Jackson (sure, those are their given names) get some solid zingers off in "The Power of Glove," not the least of which is its titular Huey Lewis reference. By now, you know that live, the Breakfast perform with big cardboard instruments…they have strange mustaches…and their 80s-addled music bites not as much on synth-pop or new wave as the tinfoil keyboard twitter and anthemic plead of movie sequences. The Champions of Breakfast aren't serious. Or are they? Just off a European tour (seriously!) and a bevy of CD release shows for their new Pleasure Mountain disc, the fucking Champs answered some not-so-serious questions with some not-so-serious answers. Go figure…– Johnny Loftus
Worst fanboy/fangirl experience…
A little while ago we had a girl come up to us at a show and insist that the track "Vanilla (always gets it raw)" was about her. When we told her that the song was written for our manager, Donny Villalobos, she became irate. She broke a bottle on our merch T-shirt bust and then tried to attack Donny. Val had to use his "long bass" to fend off the attacker.
Favorite music venue/city…
United States: The CAID, Detroit
Netherlands: De Magische Huidaap, Appeldoorn
Vegetarian, vegan or carnivore…
Dungeons and Dragons
Actor/actress you most want to hump…
Doodz
Bands you are digging right now…
Lyin Dogs, Lizz King, pre-surgery Ashlee Simpson
Last great movie you saw…
Nightbeast
TV shows you can't stop watching…
"DeGrassi," "Celebrity Rehab," "Flavor of Love" (season two only)
Beverages you request on your rider…
Mexican horchata
First car…
After meeting at a Jesus Lizard concert in the early 1990s, Val and I bought a 1989 white Buick LeSabre and toured in it for a couple years. The passenger door panel had almost completely rusted off, so in order to look badass, we slapped a 4-foot RATT rub-on decal on the hood. It worked.
Guiltiest Pleasure – thing you watch, read, listen to – that no one knows about…
The taste you get in your mouth after licking a bunch of postage stamps.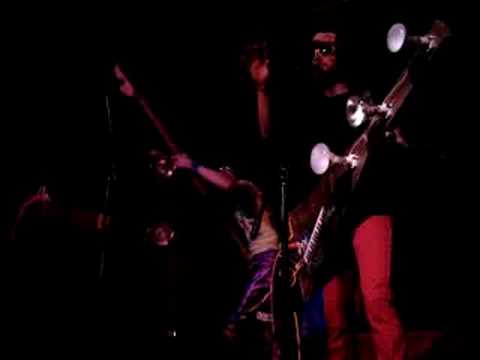 Tags: Ashlee Simpson, Champions of Breakfast, Moses Jackson, RATT, Val Hundreds
Posted by: detourmag on August 1, 2008 at 9:24 am
With the gleam of disco and anxious pull of electro, plus post-punk at the core and plenty of pop melody, it's pretty clear why Cut Copy's in Ghost Colours is one of our favorite records of the year. Fronted by Dan Whitford, Cut Copy also includes Tim Hoey and Mitchell Scott. Here, Hoey was nice enough to lay it down for us on everything from the allure of New York City and Sonic Youth classics to who's eating what in the band and a totally awesome quote from the band's MySpace comments. — Johnny Loftus
MP3: "Lights & Music"
Favorite music venue/city…
New York has always been kind to us, from recording to playing to secondhand records.
Vegetarian, vegan or carnivore…
Mitchell and I are vegetarian. Dan likes rump steak stuffed with lobster wrapped in bacon. (It's the country way. Dig.)
Most rented movie as a child…
Boyz n the Hood
Record that changed your life…
Sonic Youth, Evol
Best band from your city (besides yourself)…
Knightlife
CMJ or SXSW?
NKOTB
Movies in your Netflix queue…
"The Wire" season 1, 2, 3 and 4
Weirdest MySpace comment or message…
"You guy's say you're playing HAPPY HARDCORE. I don't think you know what happy hardcore is, it's understandable, you probably thought …hey were[sic] playing hardcore, and the lyrics are happy… NO. Happy Hardcore is a legitimate genre of music that you all sound nothing like, nor do i think that you would even like happy hardcore. Here's an example of happy hardcore….
ANABOLIC FROLIC
9. Take a listen, now thats not what you want people to think you sound like when they hear/see that you play Happy Hardcore is it. "
Favorite place for new threads…
Claude Maus Store, Melbourne
Tags: Boyz n the Hood, Cut Copy, Evol, In Ghost Colours, Knightlife, Lights & Music