Posted by: Martin Stett on July 21, 2008 at 10:06 pm

Motherfucking Watchmen. The Dark Knight got us moist but this flick is going to stick it in sideways.
While this guy was busy jacking off to the trailer, we scooped up this exclusive image of the new Entertainment Weekly cover due out this week. And if you were busy hitchhiking your way to Comic Con and missed the trailer, here it is in all its Quicktime splendor…
– Brandon W.
Posted by: Martin Stett on July 8, 2008 at 1:36 am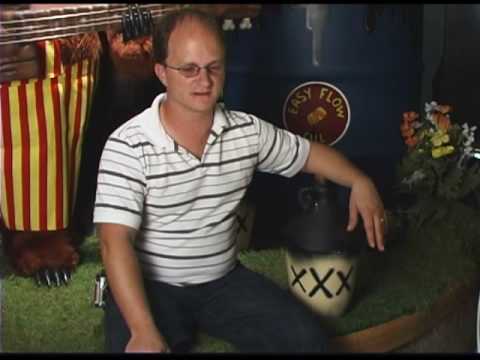 Chasing a dream is one thing, but living alone with a full animatronic band of bears and wolves is something else all together. The Rock-afire Explosion follows Chris Thrash as he tries to fulfill his lifelong quest to own and cuddle with the Rock-afire Explosion band (of Showbiz Pizza fame). The tiny indie production company Window Pictures is putting out the doc later this year. Add this to the pile of films attempting to demystify the 80's nerd culture. All we have to say is: keep trying, that shit goes deep. Thank God this dude isn't obsessed with The Hall of Presidents. No one wants to wake up to Lincoln malfunctioning.
Rock-afire Explosion doing "Conquest" by the White Stripes after the jump… Read more
Tags: Animatronics, Chris Thrash, Chuck E. Cheese, Rock-afire Explosion, Showbiz Pizza, White Stripes
Posted by: Martin Stett on July 7, 2008 at 4:31 pm
Jason Statham is the new Vin Diesel. In flick after flick, Statham looks like Statham looks like Statham who can never look as cool as Tango or truly kick ass like Cash. Dude never changes. Whether he's in prison, kicking some dudes soul from his face or fucking some chick, he looks, sounds, acts and struts exactly the same. Is a fucking wig too much to ask? A beard? I vote for him being billed as himself from now on.
The trailer provides the makings for a scrumptious shit sandwich: two cups Spy Hunter , one dash of Speed and a sprinkle of Tango & Cash buddy/prison action campiness. I'd rather eat Speed 2. Read more
Tags: Death Race 3000, Jason Statham, Speed, Spy Hunter, Stallone, Tang & Cash
Posted by: detourmag on June 30, 2008 at 2:51 pm
A case of mistaken identity. A series of anonymous phone calls. Interrogation by a stern, fifty-ish CIA/FBI/ATF official. Young people running from their wannabe captors, jumping out of windows, ducking from explosions. White people in sleek, sterile offices tracking and watching and toying with cool gadgets. And the obligatory passport; someone always has to look at a passport. Welcome to the world of the Hollywood technological thriller. Don't know about you, but we're over this shit. It all looks the same; Hackers meets Untraceable meets 88 Minutes. Fifty bucks if you can name the voice on the cell phone…
— Harry Caul
Posted by: Johnny Loftus on May 8, 2008 at 2:00 pm

Defiance (Edward Zwick, 2008)
Edward Zwick's follow-up to the better-than-it-looked Blood Diamond isn't slated for release until at least the end of this year. But from this teaser trailer for Defiance, its story of three Jewish brothers who escaped the Nazis in their native Poland and became Read more
Posted by: Johnny Loftus on May 7, 2008 at 2:36 pm

The Happening (M. Night Shyamalan, 2008)
It's certainly because Lady in the Water blew, and might be because his "American Express" ad and "Entourage" appearance were overblown and pompous, but it's probably because no one likes a guy who tells you it's his before you've even asked. "M. Night Read more
Posted by: Johnny Loftus on May 6, 2008 at 2:00 pm

The Take (Jonas Pate, 2007)
The rap on The Take is that it's already set to launch for real on DVD; this trailer exists only for the limited number of screens it'll open on in order to justify a theatrical release. And that kind of rap usually means you should expect the latest installment of the Poison Read more
Posted by: Johnny Loftus on May 5, 2008 at 2:00 pm

Hamlet 2 (Andrew Fleming, 2008)
"The so-called 'Supreme Court' can suck my balls." Poehler is going to rule in this movie, which otherwise sounds like one of those "misfit kids from the wrong side of the tracks grudgingly take a liking to and ultimately learn a lot from an outsider who does a fair share learning about himself in the process" movies. Fun fact: the guy who directed this also directed Threesome. — Johnny Loftus

[tags]Hamlet 2, Steve Coogan, Supreme Court, Amy Poehler[/tags]
Posted by: Johnny Loftus on May 2, 2008 at 2:00 pm

Quarantine (John Erick Dowdle, 2008)
Make way for the Cloverfieldian "found footage" nightmare movies. The upcoming Quarantine is actually a remake of the 2007 Spanish film [rec], but with its premise of what's revealed in the aftermath of an unknown terror, and its use of "recovered" footage to advance the plot, it's similar to the setup for JJ Abrams's monster movie. Quarantine gives us Read more
Posted by: Johnny Loftus on May 1, 2008 at 2:00 pm

Blindness (Fernando Meirelles, 2008)
The Eye, Blink, Day of the Triffids, Blind Fury, the failed television experiment "Blind Justice" — films and programs with blindness or eye trouble as a theme are hit or miss. Maybe Fernando Meirelles can change that. Based on a 1995 novel by Read more