Posted by: Mike White on March 10, 2009 at 2:59 pm

The Taking of Pelham One Two Three (Joseph Sargent, 1974)
If you aren't aware of it, let me let you in on a little secret… Walter Matthau kicks ass.  Known more for the Neil Simon comedies he did with Jack Lemmon, Matthau should best be remembered for a trio of films he made in the early '70s — Charley Varrick, The Laughing Policeman, and The Taking of Pelham One Two Three.
Matthau stars as Lt. Zachary Garber, a transit worker who gets stuck between a quartet of criminals who took a subway train hostage and the bureaucracy of City Hall.   With his hangdog expression, Matthau perfectly plays Garber as someone trying to do the right thing despite everyone around him.  Also along for the ride are a cadre of character actors including Kenneth McMillan, Jerry Stiller, Hector Elizondo, Martin Balsam, and Robert Shaw as the criminal mastermind behind the heist.  This is the film that gave Quentin Tarantino the idea to use colors instead of names for the robbers in Reservoir Dogs.
Remade once already as a TV movie with Edward James Olmos in the Garber role, a new remake is due out in June.  Trust me, the original is the way to go with this one. Stick It In Your Queue.
Tags: Denzel Washington, John Travolta, Quentin Tarantino, remake, Reservoir Dogs, Walter Matthau
Posted by: Mike White on March 9, 2009 at 4:22 pm

Prayer of the Rollerboys (Rick King, 1990)
There were several rollerblade flicks to grace screens in the late eighties and early nineties (Solarbabies, Rollerblade 7, Roller Blade Warriors), but only one had the vision to cast one of the Two Coreys. Corey Haim, stars as Griffin in Prayer of the Rollerboys, a low rent post-apocalyptic flick in which a band of trenchcoated teens terrorize society.  The Roller Boys are yuppie scum on skates and earn their bread by making and selling the designer drug "Mist." Their goal: use their drug profits to buy back America from the foreign powers that bought out the U.S. after the "Great Crash" of the economy.  If you live in Detroit, sharpen your skates because the "Day of the Rope" may soon be upon us.
Despite Griffin and Roller Boy leader Gary Lee (Christopher Collet) growing up together, Griffin steers clear of the Roller Boys until his little brother Milton (Devin Clark) gets mixed up in some bad business.  Griffin has to go undercover to save his brother and help out policewoman hottie Casey (Patricia Arquette).  A goofus getting in good with a band of twisted criminals while bedding a short-haired chick?  If this sounds like an early draft of Point Break, that's probably because writer W. Peter Iliff went on to pen the Keanu Reeves cult classic.
At times reminiscent of Peter George's Surf Nazis Must Die (especially with Gary Lee's "final solution"), Prayer of the Rollerboys is a classic case of bad film pouncing on a trend.  A must see for Corey Haim's extensive headband and do-rag collection.  "Day of the rope… Day of the rope… Day of the rope…"
Tags: corey haim, keanu reeves, postapocalyptic, rollerblades, surf nazis
Posted by: Mike White on March 5, 2009 at 3:37 pm
Heckler (Michael Addis, 2007)
Jamie Kennedy has an ax to grind. Once in danger of knocking Pauley Shore from his position as the most easily disparaged comedian, Kennedy comes out swinging in Michael Addis's Heckler, a documentary that starts as a look at comedians and hecklers before quickly turning into a counter-attack on critics. The film features interviews with a bevy of comedians and feels a bit like a sequel to The Aristocrats during the heckler section. When the subject turns to critics, Kennedy comes to the fore as he interviews a few of the scribes who wrote the most scathing reviews of his work. The cajones of these critics, particularly Peter Grumbine, are jaw dropping. The only thing possibly more disconcerting is that Kennedy feels the need to defend some of his shitty films, like Son of the Mask. Kennedy isn't particularly endearing or fabulously funny but Heckler works when he's not whining about the unfair treatment Malibu's Most Wanted got. Stick It In Your Queue.
Tags: carrottop, Comedy, jamie kennedy, michael richards, pauley shore
Posted by: Johnny Loftus on July 13, 2008 at 8:42 pm
"Excuse me, General. But what about the fucking money?" Tony Todd, the MF'ing Candyman, getting over on Ed Harris like you read about. "…and mercenaries get paid." Plus Bokeem Woodbine, and that dude with the bulging eyes who may or may not be in every Michael Bay movie ever. It's a good thing Morse broke all the mirrors in that room during a fit of rage a few hours before they shot this, or he and "the general" might've had to deal with Daniel Robitaille. — Johnny Loftus
[tags]The Rock, Michael Bay, Tony Todd, Bokeem Woodbine, Ed Harris[/tags]
Posted by: Martin Stett on June 30, 2008 at 1:53 pm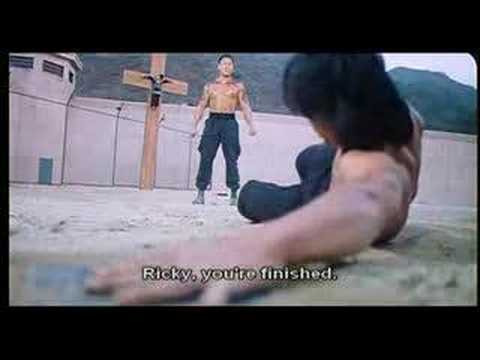 Officer: "Why didn't you let the doctors take the five bullets out of you?"
Ricky: "Souvenirs."
Quite possibly the toughest motherfucker of all time, Ricky utters this gem in the first few minutes of the film that chronicles his bad ass life, the aptly titled The Story of Ricky. What follows is one of the most mind-blowing, laugh your ass off, holy-fucking-shit-blood-and-guts martial arts film ever. Eyeballs pop out, heads get punched off, guts ripped out, limbs get severed. Shit, even a face gets sliced off. The scene above doesn't give away much of the, ahem, "plot," but it does give you a glimpse into the amazing power of Ricky. Stick it in your queue and let him pound you into meat. More amazing video after the jump. Read more
Tags: Ngai Kai Lam, Siu-Wong Fan, The Story Of Ricky, Trash Cinema
Posted by: Ryan Allen on May 8, 2008 at 12:00 pm

The Ninth Configuration (William Peter Blatty, 1980)
Somewhere in the Northwest United States stands the creepiest castle on the continent. It's become the asylum for a dozen or so washed-up soldiers who cracked under pressure. From out of the thick fog comes Colonel Vincent Kane (Stacy Keach), the new psychiatrist. His treatment methods could be seen as unsound. He adopts an open-door policy and Read more
Posted by: Ryan Allen on May 7, 2008 at 12:00 pm

Zero Hour (Hall Bartlett, 1957)
If you've seen Airplane! then you've seen Zero Hour, though you may not be aware of it. In the museum of 1970s disaster films, an entire wing is dedicated to airplane-themed films. A subject rife for parody, the comedy team of Jim Abrahams, David Zucker and Jerry Zucker cherry picked ideas from Airport, Airport '75, Airport '77, et cetera. Yet, at the heart of Read more
Posted by: Ryan Allen on May 6, 2008 at 12:00 pm

Pretty Poison (Noel Black, 1968)
"The world has no place for fantasies," learns parolee Dennis Pitt (Anthony Perkins) after he meets apple-pie sweet Sue Ann Stepanek (Tuesday Weld). He first spies her bearing the flag in her high school marching band as they run through a John Philip Sousa piece in the park. Dennis's grasp on reality isn't as tight as it should be. Later, as he inspects bottles Read more
Posted by: Ryan Allen on May 5, 2008 at 12:00 pm

Full Contact (Ringo Lam, 1993, Hong Kong)
Hong Kong action meets Cannon Film sensibility in Ringo Lam's Full Contact (aka Xia dao Gao Fei). The film opens with a robbery where audiences meet baddies Judge, Virgin, and Deano. A motley band of outlaws, Deano is a mohawked muscle man, Virgin is a drooling nymphomaniac, and Judge (Simon Yam) is a homosexual magical assassin in a snake-skin Read more
Posted by: detourmag on May 2, 2008 at 12:00 pm

20th Century Oz (Chris Löfvén, 1976, Australia)
Teenage groupie Dorothy (Joy Dunstan) is living in the land down under where she and her pal Jane (Paula Maxwell) spend Friday evenings at the local youth center catching unknown musical groups like Wally and the Falcons. Hitching a ride from the band, things go awry when their van goes in a ditch, sending Dorothy over the Read more