Posted by: Adam O'Connor on March 11, 2009 at 10:41 am

"We'll come back through next tour, maybe things will be better then." Sympathy is not something you hear often from a touring band, especially one playing to a dismal six paying audience members. Jordan Hell, synth monkey for DD/MM/YYYY, seems to understand the plight of Metro Detroit, and has high hopes that the shit turnout on a rainy Tuesday evening isn't what Detroit holds for all touring bands these days. One can only hope that their show tonight at the Elbow Room with Child Bite has better things in store than the baker's dozen that showed up at the Pike Room Tuesday night. This total includes the doorfella, bottle-getter, barwench, and 4 family members of the band. The shame of it all is that this was the loudest, most crisp, explosive set from a jam-punk band since Malajube in 2007. The show almost didn't happen. Opener-turned-headliner Red China arrived late, and coupled with the piss-poor turnout, DD/MM/YYYY nearly got scratched. In true punk fashion, the quintent said "fuck that, we'll play". Three different band members proceeded to play the drums (one of which may or may not have been wearing green thermal PJ bottoms onstage, saggy crotch included), two played synth, and there was even a brief sax appearance. Black Square, the quintet's latest release, dropped digitally in February, and will be available everywhere else this St. Patrick's Day.
Tags: Black Square, DD/MM/YYYY, Malajube, Pike Room, Red China
Posted by: Woodwards Friend on March 11, 2009 at 9:14 am
The Palace is not one of the city's precious jewels
Jay Leno's free concert has sent City Council over the edge. They are officially in padded room territory now. Martha Reeves plans to call Jay Leno and let him know about venue options in the city proper, such as beautiful Cobo Arena or maybe Harpos. One problem, she doesn't know his number. Monica Conyers says Martha should just call NBC and they'll totally connect her because she's Martha Reeves. The last time Martha Reeves was that relevant, a young unknown named Johnny Carson was hosting The Tonight Show. He's ok but there will never be another Jack Paar. (DetNews)
Like voting, newspapers are for the olds
The Detroit News made Time Magazine's list of ten most endangered newspapers. Actually it was ranked fourth. That means the Detroit News is as endangered as fugitive Boston crime boss Whitey Bulger is wanted by the FBI. Naturally, we are linking to this story on the time honored news source known as "Yahoo." Hmmm…just promise to open the link in the story above. Ok? (Yahoo)
Dave Bing's education status angers up the Free Press klavern
Dave Bing one time said he earned his degree in 1966 when in fact he didn't actually finish his program until 1995. Meh. It's not like was a drug dealer in college like, say, Kwame Kilpatrick. Free Press message board participant "BiggyD" (who looks like he maybe once failed a community college course) writes: "Well the list of black men I admire is now down to two: Joe Dumars and Colin Powell. Every time I read, hear or see blacks act like blacks I try to remember there are some I admire. That list has just gotten smaller." The Free Press can eliminate the message board instead of home delivery. Let these slobs return to Stormfront where they belong. (Freep)
If Walker: Texas Ranger was a Philip Roth novel
So…Chuck Norris and Glen Beck are starting their own private Plot Against America Friday afternoon with a special broadcast to a secret network of secessionist "cells" on the Fox News. The show is called We Surround Them. "We" meaning Glen Beck, Chuck Norris, and Tim McVeigh's militia buddies and "them" meaning the blacks. Also the Muslims and the gays. Metro Detroit's "cell" will watch this historic address at Hamlin Pub located at…wait for it…22 Mile and Hayes. Show up wearing your best Obama buttons and vintage Harvey Milk t-shirt. (WorldNet, Meet-up)
Felon Kwame Kilpatrick is the Texas justice system's problem now
Kilpatrick gets to take his sorry ass to Texas for his charity job from Peter Karmanos. He also has to pay $16,000 of his restitution before he goes. That means he only owes Detroit taxpayers another $984,000. Then the Judge gave Kilpatrick a good talking to about respecting the system. Kwame Kilpatrick now understands that it was wrong to fly on a private jet to Texas, lease a new Escalade, etc when he still owes $1,000,000 to the taxpayers. In the future he will behave with humility. Say, while I have your attention, can we talk about an amazing time share opportunity? How would you like a week's vacation for the rest of your life? (Freep)
Hands Across Detroit
Yesterday's State of the State predicted that Detroit would become the new third world cause célèbre, replete with benefit concerts and the like. Actually that's already happening. Later this month, a ten-day rock show marathon benefit will take place in Ferndale. Ok, ten days of music sounds pretty cool. They should invite Joan Baez to bray on about this being our Woodstock. Hopefully soon the organizers can better explain some details. Like what this Bob Geldof-crossed-with-the-Trumbullplex thing is actually raising money for. Also, ticket prices. Yes, we are snarking on people trying to "help." That's what we do. Flame away… (Assembly Line)
Tags: Chuck Norris, City Council, Dave Bing, Detroit News, Free Press klavern, Hands Across Detroit, Jay Leno, Kwame Kilpatrick, militia
Posted by: Mike White on March 10, 2009 at 2:59 pm

The Taking of Pelham One Two Three (Joseph Sargent, 1974)
If you aren't aware of it, let me let you in on a little secret… Walter Matthau kicks ass.  Known more for the Neil Simon comedies he did with Jack Lemmon, Matthau should best be remembered for a trio of films he made in the early '70s — Charley Varrick, The Laughing Policeman, and The Taking of Pelham One Two Three.
Matthau stars as Lt. Zachary Garber, a transit worker who gets stuck between a quartet of criminals who took a subway train hostage and the bureaucracy of City Hall.   With his hangdog expression, Matthau perfectly plays Garber as someone trying to do the right thing despite everyone around him.  Also along for the ride are a cadre of character actors including Kenneth McMillan, Jerry Stiller, Hector Elizondo, Martin Balsam, and Robert Shaw as the criminal mastermind behind the heist.  This is the film that gave Quentin Tarantino the idea to use colors instead of names for the robbers in Reservoir Dogs.
Remade once already as a TV movie with Edward James Olmos in the Garber role, a new remake is due out in June.  Trust me, the original is the way to go with this one. Stick It In Your Queue.
Tags: Denzel Washington, John Travolta, Quentin Tarantino, remake, Reservoir Dogs, Walter Matthau

800 Beloved, Bouquet (Moodgadget Records)
Uh oh. Looks like Detroit's got its very own Joy Division. At least that's what the uniformed will think when they hear the cold, slightly Goth-ish tones on 800 Beloved's icy Bouquet. While the monotone vocals, slashing guitar work, melodic bass-lines, apocalyptic synths, and dark tunnels 800 Beloved travel down certainly bring to mind Curtis & co. — and, to a much lesser extent, Interpol, for those without a decent record collection — what the band is really up to seems a lot more endearing. In all reality, Bouquet is a well-crafted continuation of a long-standing Mitten tradition of producing quality space-rock and shoegaze; one that started with groups like Majesty Crush, Windy and Carl, and Asha Vida (featuring a much-less pop inclined Casimer Pascal of Pas/Cal fame), and has continued to this day with sonic shredders like Dark Red (Rob from Paik) and the super-underrated Dykehouse (hell, we could even go out on a limb here and dub Javelins and Deastro branches on the Michigan-shoegaze family tree). So it's with open arms that we welcome 800 Beloved to the fold. And how could we not, with certified New Romatic-era jams like "Show Me Evil" and "The Skeleton Collection" stuffed up their frilly sleeves? The band is slightly elusive (they hardly ever play around town), but fans of M83, Robert Smith-hair, and City Club will surely find something to adore about this collection. — RA
Julie Doiron, I Can Wonder What You Did With Your Day (Jagjaguwar)
MP3: Consolation Prize
Julie Doiron's work with 90's Canadian favorite Eric's Trip has certainly helped her build a consistent solo career. More or less until this point she's delivered solid, but relatively quiet records that only hint at the lo-fi squall of those early Eric's Trip days. Though the title sounds like a note your adorable stalker might leave inside a mix tape under your windshield wiper, I Can Wonder What You Did With Your Day, also contains some of Doiron's most fuzzed out and melodic material yet. Thickly distorted, yet melodically solid tracks are interspersed with introspective observations. Her most immediately catchy release yet. — LW
Elvis Perkins In Dearland, Elvis Perkins In Dearland (XL Recordings)
MP3: Shampoo
Elvis Perkins sound like the name of a Southern Rockabilly revivalist, but instead, he's a revivalist of a different sort. For his second album, he's now formed a complete band — and this additional trio of multi-instrumentalists bring something special to the music of the exceptional songwriter. With a sound reminiscent of classic Cat Stevens and Josh Ritter meets a New Orleans funeral band, Elvis Perkins In Dearland march through the streets in joyous defiance. Bursts of harmonium, trombone, banjo and clarinet punctuate clever and biting lyrics. Songs like "123 Goodbye" and "Hey" wouldn't sound out of place a Wes Anderson film soundtrack. — LW
From Monument to Masses, On Little Known Frequencies (Dim Mak/Downtown)
MP3: The First Five
Instrumental music is always a hard sell — it's not like Tortoise are packing out arenas these days, ya know? But, music without lyrics has quite the history. Ever hear of this dude Johann Sebastian Bach? Yeah, thought so. So, in the tradition of ol' white-wig himself, we give you the occasionally cinematic soundscapes of the vocal-less Oakland trio From Monument to Masses. Combining the bass-heaviness of the aforementioned Tortoise, with the electro-rock of Minus the Bear, and the metallic shrapnel of, say, Mastodon (fun fact: producer Matt Bayles oversaw records by both the latter groups), FMTM often show up their instrumental peers by A) being not boring (unlike Godspeed You Black Emperor), and B) having a tasteful hip-hop influence (think Prefuse 73, not Diddy) featured throughout. It's hardly a symphony, but this ain't your older brothers math-rock either. — RA
Handsome Furs, Face Control (Sub Pop)
MP3: I'm Confused

Face Control will quickly become the "it" record for the ironic hipster set, so expect every person who sees gold lame' stretch pants and rubber wading boots as essential wardrobe pieces to adore this record. But Handsome Furs bring just enough earnestness with their 80's throwback synth sound to avoid being a flash-in-the-pan trendy favorite. Of course staying power is also improved when one half of your band is Wolf Parade's Dan Boeckner. Along with his wife Alexei Perry, the two follow up 2007's Plague Park with a fuller, more realized set of songs. Gets better with each listen. — LW
War Child presents Heroes (Astralwerks/War Child)
MP3: The Like, You Belong To Me (Elvis Costello)

Did the masterminds behind Urban Outfitters in-store playlists and SirusXMU get together and put together a comp? A quick scan of the artists that make up War Child's Heroes collection — the Kooks, Estelle, TV on the Radio, Lily Allen, Franz Ferdinand, Scissor Sisters, etc. — and it would seem so. Indeed, you could hear any one of these middle-of-the-road alt.rock and pop pansys blasting over the loud speakers while you snatch up your newest pair of skinnies, but this time around, the kids are covering legendary tracks by the likes of the Ramones, Iggy Pop, U2, and the Kinks, amongst others. The catch? The roster was chosen by the legends themselves. The verdict? It's pretty hit-and-miss, with nu-Winehouses Estelle and Duffy doing predictable "SNL"-esque big-band takes on Stevie Wonder and Paul McCartney. Elsewhere, the Hold Steady cover Bruce (shocker!), TV on the Radio do Bowie (no shit!), and the Like do Elvis Costello (actually awesome!). Nitpicking aside, it's for a good cause (proceeds go to benefit children affected by war), so buy it for you dad and feel good about yourself. — RA
Tags: 800 Beloved, Astralwerks, Dim Mak, Elvis Costello, Elvis Perkins in Dearland, Estelle, From Monument to Masses, Handsome Furs, Heroes, Julie Doiron, Kooks, Lily Allen, Matt Bayles, Paul McCartney, Stevie Wonder, The First Five, The Hold Steady, The Like, Tortoise, TV On the Radio, War Child
Posted by: Woodwards Friend on March 10, 2009 at 9:28 am

Never let reality get in the way of a good conspiracy theory
Monica Conyers believes the Cobo expansion plan is really a plot by the UN to expand the drug trade controlled by the Queen of England. What? That's no more daffy than believing union members stood on the roof of Cobo Hall with garden hoses to stage a leak during Sunday's four inch rain storm. Monica, that tin foil hat suits you. Oh and see that picture of Monica's husband John Conyers? He's speaking to a bunch of LaRouchians. They actually believe the Queen of England controls the drug trade so, you know, crazy must run in the family. (WXYZ)
Detroit is the new pitiful third world famine place
Jay Leno is coming to town to help us out with a free show at the Palace. Pretty soon there will be benefit concerts organized by ex-Beatles and then Bob Geldof will produce a charity Christmas album for us. Then like 50 singers and Dan Akroyd Rosie O'Donnell will record a We Are Detroit song or some shit. Eventually Angelina Jolie will adopt our orphans. Hands Across Detroit, anyone? (DetNews)
U of M wants to kill your baby leftovers
So you finally got around to having babies for Jesus and your mother-in-law but your inside lady parts no longer work right. Oh hamburgers! You've got two choices. Either adopt a baby from a Romanian Juno, thus rescuing an innocent from hopeless poverty, or drop five-figures so you can make your own real baby. You choose option two and, in the process, create a whole mess of surplus embryos. Now "science" wants to use these spare babies for stem cells. What a horrible, horrible injustice. (Freep)
Kilpatrick/Beatty sext: putting a bow on it
The Judge said felon Kwame Kilpatrick had no right to privacy when it came to text messages on publicly owned pagers so he's looking for another judge to give him $100,000,000 because rights he doesn't have were violated. Ruth Carter said Mike Cox was planning to call the stripper party a fake from the word go but, then again, it's Ruth Carter talking so unreliable narrator. Please, please, please let it be true. (DetNews, Freep)
State cuts the next Governor's pay
In order to save money the state is going to cut the salaries of the Governor, Lt. Governor, Attorney General, and Secretary of State. Not the current Governor, et al but the ones that replace Granholm and company in 2011. That's kind of a dick move. Maybe Mike Cox can also leave some old cheese in the back of the Attorney General's desk drawer. (Crains)
There isn't a lot to do in Jackson
If you are in the prison there's yard time but for the rest of Jackson's population there really isn't a lot of ways to spend your time. That's why the Eagles (the fraternal organization, not the shitty Don Henley band) have bingo nights. The Eagles themselves are too busy drinking Blatz on tap to pay much attention and that's why the head of their bingo operation was able to steal $40,000 without anyone noticing, at least until they almost foreclosed the lodge. (MLive)
Tags: Jackson, Jay Leno, Lansing, Monica Conyers, stem cells, Team Kilpatrick
Posted by: Woodwards Friend on March 9, 2009 at 10:08 pm
Kwame Kilpatrick wants to soft rock you
The first thing that jumps out is a message on page three that reads: "You are the wind beneath my wings." Not only is Kwame Kilpatrick a liar and crook, he's also a douche. A disgusting Tim Robbins in High Fidelity kind of douche. He probably won Carlita's love with his extensive knowledge of Dan Fogelberg lyrics.
Kwame Kilpatrick was like the municipal Louis XVI
"Hi Mr. Mayor. Hope you are alright…I'm home in DC if you need me…Leadership is a B. But rewards make the challenge worth our commitment to our God and our people. YOU ARE CHOSEN. Let's Roll. Mom." See, he didn't just get up in here by just coming. He was CHOSEN. By Jesus. Why do you hate Jesus, Detroit?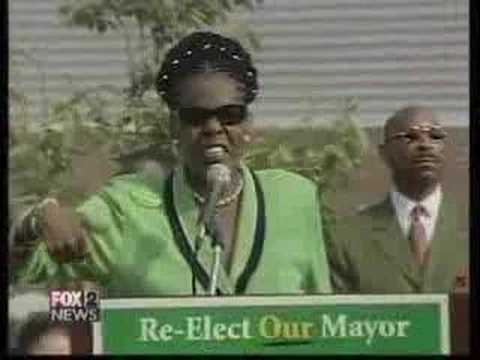 Does Ruth Carter issue verdicts with that mouth?
When the Honorable Ruth Carter, 36th District Court Judge, was head of the Law Department she decided that Gary Brown's lawsuit amounted to slander and wanted him prosecuted. Prosecutor Mike Duggan was like: Ugh…no. Also slander isn't a criminal offense. Nice lawyering. Duggan suggested they "play ball." Carter, in her expert legal opinion, texted: NO FUCKING CHANCE! Say what you will about Mike Duggan but he's a lot smarter than Ruth "FUCKING" Carter.
That Navigator was very important to Carlita
No wonder the great Navigator saga of 2004 (2005?) seemed to last well past the usual Sweeps Week arc of a Steve Wilson story. Carlita really, really wanted that car. If her husband was going to nail girl Scottie Pippen then Carlita was going to get a really garish looking luxury SUV. Red is a horrible color on that vehicle. You might as well throw in some blue carpet and gold curtain rods.
Sending Smooth B out for some sandwiches
Poor Dominic Pangborn. He built "a life from nothing in this country and not only do good for [his] family but for so many others" only to pitch his dirty deal to the least significant member of Team Kilpatrick. Apparently, Derrick Miller's main responsibility was fetching lunch. He didn't dare return with sandwiches on the wrong kind of bread. Again. Always figured that was Matt Allen's job.
The Kilpatrick-Beatty affair was an Urban Adult Contemporary radio station
There's a line from Six Degrees of Separation about how collage is the art form of the 20th century. Everything has already been created and we are in a post-modern era of re-invention. Alternatively, we're a society of lazy slobs who would rather quote Luther Vandross, Anita Baker, and R. Kelly than come up with an original, honest expression of our deepest emotions. For Kilpatrick and Beatty, it's the latter.
Grooming is important to a healthy long-term sexual relationship
Christine trimmed back her Vietnamese jungle bush with "A CUTE LITTLE BIKINI WAX" and Kwame was like: "I'm GOING TO BE ALL OVER THE BIKINI WAX SECTION OF YOUR BODY. LOL" Take a second to get that little bit of vomit back down your throat. LOL is the all-time single worst contribution to the lexicon. It can't be said enough. No one over the age of 9 should ever use LOL. Ever. (Freep)
Tags: Team Kilpatrick
Posted by: Anthony Morrow on March 9, 2009 at 4:39 pm

We have two spots on the guest list for tomorrow night's show at the Magic Stick. If you want to go, email us a photo or post a link in the comment section to what you think is a funny ass photo of a wig. It can be someone wearing a wig, a dog in a wig, your dad's wig or a member of The Whigs eating a corndog, naked… wearing a wig. We'll pick the funniest one tomorrow morning and email the winner. Send to: info@detour-mag.com
Tags: Magic Stick, The Whigs
Posted by: Mike White on March 9, 2009 at 4:22 pm

Prayer of the Rollerboys (Rick King, 1990)
There were several rollerblade flicks to grace screens in the late eighties and early nineties (Solarbabies, Rollerblade 7, Roller Blade Warriors), but only one had the vision to cast one of the Two Coreys. Corey Haim, stars as Griffin in Prayer of the Rollerboys, a low rent post-apocalyptic flick in which a band of trenchcoated teens terrorize society.  The Roller Boys are yuppie scum on skates and earn their bread by making and selling the designer drug "Mist." Their goal: use their drug profits to buy back America from the foreign powers that bought out the U.S. after the "Great Crash" of the economy.  If you live in Detroit, sharpen your skates because the "Day of the Rope" may soon be upon us.
Despite Griffin and Roller Boy leader Gary Lee (Christopher Collet) growing up together, Griffin steers clear of the Roller Boys until his little brother Milton (Devin Clark) gets mixed up in some bad business.  Griffin has to go undercover to save his brother and help out policewoman hottie Casey (Patricia Arquette).  A goofus getting in good with a band of twisted criminals while bedding a short-haired chick?  If this sounds like an early draft of Point Break, that's probably because writer W. Peter Iliff went on to pen the Keanu Reeves cult classic.
At times reminiscent of Peter George's Surf Nazis Must Die (especially with Gary Lee's "final solution"), Prayer of the Rollerboys is a classic case of bad film pouncing on a trend.  A must see for Corey Haim's extensive headband and do-rag collection.  "Day of the rope… Day of the rope… Day of the rope…"
Tags: corey haim, keanu reeves, postapocalyptic, rollerblades, surf nazis
Posted by: Ryan Allen on March 9, 2009 at 10:30 am

Welcome, bitches, to our first installment of the Monday Mixtape — a weekly collection of hot jamburgers that we're rocking around the office. For our inaugural edish, we're featuring some new tracks that we missed out on while we were away watching the first three seasons of "Weeds" on DVD.
Max Tundra :: Will Get Fooled Again
Perhaps best known for his remix work, UK digi-pop producer Max Tundra delivers an anthem for our social networking-obsessed society — proving that yes, you can even meet chicks on eBay.
The Pains of Being Pure At Heart :: Everything With You
Did Sarah Records ever go away? Not if you're a member of TPOBPAH, Brooklyn's resident fuzz-pop maestros, who lovingly nod to classic cuddle-core acts like Black Tambourine and the Field Mice, albeit at a much quicker pace.
American Princes :: Real Love
American Princes prove that chorus pedals sounds good beyond that of Nirvana's "Come As You Are," pushing it to the forefront of their angular, 80s-informed pop.
Grizzly Bear :: Deep Blue Sea
As anticipation for their new album reaches Merriweather Post Pavilion-like levels of blogsanity, Grizzly Bear try and tide us over with this lulling contribution to the Dark Was the Night compilation.
Wavves :: So Bored
If No Age is the Smell-scene's resident Guided by Voices, think of Wavves as every other kid in the 90s with a fourtrack and a dream. Think blown-out, lo-fi-as-fuck trash-pop by a skate kid in a oversized flannel and goofy hat, ollying over a pile of 7″ records.
Fucked Up :: Twice Born
Are they punk? Are they hardcore? Shugazi (shoegaze-meets-Fugazi, duh)? Who gives a rip? They're Fucked Up. Hands up if you think you're the only one!
Yeah Yeah Yeahs :: Sheena Is A Punk Rocker
From the War Child presents Heroes compilation, we have the Yeah Yeah Yeahs doing what they do best — spikey riffs, dirty beats, squealing — by way of this Ramones classic.
Asobi Seksu :: Me & Mary
Their new album, Hush, might be slightly lameburgers, but this breezy slice of dream-pop is remissible enough.
Ida Maria :: Oh My God
Lily Allen and Katy Perry might be all the rage in the mainstream pop world, but underneath it all is the clearly pissed off Ida Maria — heir to the throne that is PJ Harvey and Chrissie Hynde. Oh. My. God is this good.
Gentlemen Jesse :: All I Need Tonight (Is You)
Touring with Black Lips should turn this power-pop unknown into a slightly-better known power-pop uknown. For fans of Elvis Costello, Stiff Records, and staying up all night, drinking tall boys, and smoking weed out of an apple.
Tags: American Princess, Asobi Seksu, Fucked Up, Gentlemen Jesse, Grizzly Bear, Ida Maria, Max Tundra, The Pains of Being Pure at Heart, Wavves, Yeah Yeah Yeahs
Posted by: Woodwards Friend on March 9, 2009 at 9:14 am

It's text message transcript day!
This afternoon the judge will release another 1400 text messages chronicling the corrupt governing styles of convicted felons Kwame Kilpatrick and Christine Beatty. This thing needs to be a TV show. Also their juvenile love affair. No one would believe grown-ups singing R. Kelly songs to each other, professing their love over text messages, and writing something as inane as "Jerry McGuire 2000! LOL!" but it could work as a tween drama on the N or ABC Family. Tween Kwame and Tween Christine could be student council leaders struggling with school, peer pressure, and parents but totally in love with each other. And always texting. The kids love to text these days. Also Twitter. (Freep)
Even God is in favor of the Cobo deal
The roof of treasured jewel Cobo Hall is leaking. There were tarps and buckets everywhere during Autorama. It's interesting because, if the Cobo deal had been approved, fixing this roof would probably be the regional authority's problem. Instead, it's up to Detroit taxpayers. Maybe Monica Conyers, Barbara-Rose Collins, and Agnes Hitchcock fix the damn roof themselves since they love Cobo so much. Martha Reeves and Joann Watson are on bucket duty. (Freep)
Weather makes local road bureaucrats cry
So the annual winter/spring freeze and thaw cycle is especially bad for the roads this year. Some truckers say Michigan roads are as horrible as a truck stop without porn. Abed Itani of the Grand Valley Metro Council thinks that's mean because local road commissions aren't neglecting the roads. They just aren't fixing them. Hey truckers, stop hurting Abed's feelings! When he gets sad he totally binge eats and you know he had that weight problem in high school. Abed Itani is such a girl. (MLive)
Final Four will include terrible douchebags
Let's say you're on the Pyramid and playing for the big money. Betty White is sitting across from you reading a list of names: Ryan Seacreast, Fergie, the Pussycat Dolls, Ryan Seacreast, ugh ugh Ryan Seacreast… Naturally you would answer: People Who Are Douchebags or Inhabitants Of My Own Personal Hell. Unfortunately this isn't the Pyramid and Fergie, Ryan Seacreast, and the Pussycat Dolls will "entertain" us during the Final Four. Hasn't Detroit suffered enough? (DetNews)
Mark Hackel is too thin to run for governor
Since the times of Andrew Jackson, the Democrats have been the party of the common man. They want a 2010 gubernatorial candidate that can relate to the common man in Michigan. That's why all their candidates (Cherry, Perles, Williamson) are old fat guys. Well, well, well looks like fancy elitist Macomb County Sheriff Mark Hackel wants to break that mold. Mr. I'm-the-Macomb-County-Obama is only 46 and in great shape. Well fuck him and his healthy lifestyle. Mark Hackel couldn't carry George Perles' manssiere. Alternatively, are we going to throw away John Cherry for what? An inadequate skinny male! (Macomb Daily)
Tags: Cobo, Final Four, Mark Hackel, roads, shitty music, Team Kilpatrick