Posted by: detourmag on February 28, 2008 at 4:00 pm

The Warriors (Walter Hill, 1979)
Can you count, suckers? If you can, then you'll know that Cyrus (Roger Hill), leader of the Gramercy Riffs, has his head on straight when he gathers nine delegates from a hundred gangs from all around New York City. Along with affiliates and unorganized street gangs, Cyrus could lead an army of 60,000. Now, there ain't but 20,000 police in the whole town. That'd make Cyrus, the magic man, the most powerful leader in the Big Apple. Can you dig it?
Cyrus has everyone out from the High Hats to the Moon Runners. His conclave's a big item. Unfortunately, the Rogues ruin the day when their leader Luther (David Patrick Kelley) assassinates Cyrus and pins it on the Warriors, a multiracial gang from Coney Island. Trapped in unfriendly turf, the Warriors are without weapons and more than a dozen subway stops from home. Everyone's gunning for them and their movements are tracked by a radio disc jockey. (The DJ is played by Lynne Thigpen, best known as the Chief from "Where in the World is Carmen San Diego?")
For the most part, The Warriors was an early entry for the actors and actresses in the film. After his turn as the pugilistic Ajax, James Remar would go on to a solid career. (And the lead in the reliably hilarious Fox soap opera "North Shore.") David Patrick Kelly has consistently turned in great performances in films such as Dreamscape and Commando, as well as "Twin Peaks." Unfortunately for Michael Beck (who plays gang leader Swan), his career never seemed to recover after starring in the roller disco fantasy Xanadu.
Based on Xenophon's tale Anabasis, about Spartans trapped in Persia, some of the gangs which the Warriors encounter are steeped in mythology, including the dangerous man-hating sirens the Lezzies and a bunch of mute baseball bat-wielding mimes who call themselves the Baseball Furies. Directed by Walter Hill, the film employs the "collective hero" archetype for which he utilized in subsequent films including The Long Riders and Southern Comfort. Set to a rocking synth-heavy score by Barry De Vorzon, the disco-era costumes and kitsch of the gangs threatens to make The Warriors ridiculous, but the film's goofy charm just can't be denied. Between Cyrus's speech, the updates from the disc jockey, and the taunting from Luther ("Warriors… come out to pla-a-ay!"), lines from the film have found themselves sprinkled throughout pop culture with the most notable example being Pop Will Eat Itself's 1989 album "This is the Day…This is the Hour…This is this."
Be advised that The Warriors shares the same fate as Star Wars and Blade Runner in that Hill felt compelled to keep mucking with his film after its release, making the recent "Ultimate Director's Cut" a complete embarrassment. (Hill shouldn't have attempted to make it into a comic book.) Stick to the 2001 DVD release. — Mike White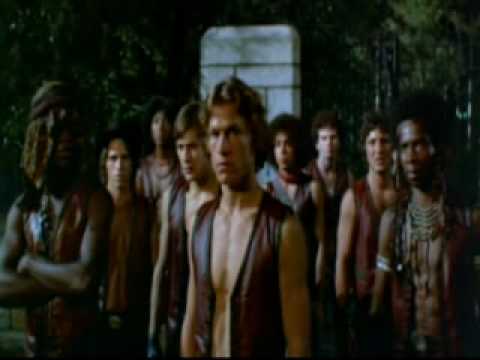 [tags]The Warriors, Walter Hill, Michael Beck, James Remar, Baseball Furies, Xenophon[/tags]
Comments