Posted by: detourmag on January 31, 2008 at 1:00 pm

Fantastic Planet (Rene Laloux, 1973)
Imported from their native Terra, the Ohms are a fun plaything for the Traags. They can be trained to perform a variety of tricks, such as balancing on balls, singing, and performing in gladiatorial games. They're known to wander off at times, but not to worry, you can equip your Ohm with a retrieval collar that will zip their little body back to you from great distances. Just beware the wild Ohms that congregate in public parts. They're filthy creatures that breed uncontrollably.
Ohms were once known as "human beings." Their new masters, the Traags, are blue-skinned creatures that stand about sixty feet high. They have large red eyes that go blank when in transcendental meditation, when their spirits conjoin with others. The Traags aren't evil, per se, but they are guilty of underestimating and abusing the Ohms. The first image we see of a Traag comes after one innocently kills a mother Ohm with the flick of a finger. Her son, Terr, is taken in by Tiwa who teaches him a series of tricks to keep herself amused. But she inadvertently teaches Terr a great deal more through a Traag teaching device which imprints thoughts into the wearer's mind. And the Traag soon learn that an educated Ohm can't be underestimated.
Based on a novel by Stefan Wul, Fantastic Planet was directed by Rene Laloux and co-conceived with artist Roland Topor (The Tenant). The landscape of the film is gorgeous and unsettling — even the most innocuous creature can be deadly to Terr and the Ohms. With a running time of 72 minutes, the pace of Planet adds to the overall dreamlike feel of this animated masterpiece. Winner of the 1973 Palm D'Or at the Cannes Film Festival, the film hasn't lost any of its power to captivate and disturb. Think about it. What if you were a plaything? — Mike White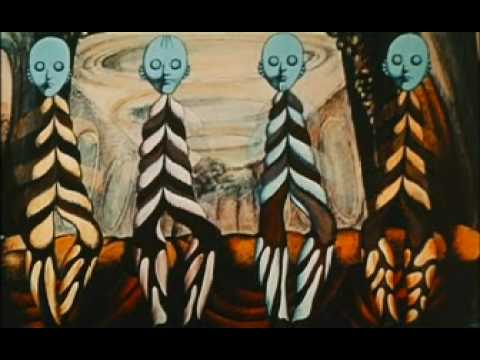 [tags]Fantastic Planet, Terr, Ohms, Rene Laloux, Traags[/tags]
Comments