Posted by: Johnny Loftus on December 21, 2007 at 3:00 pm

When David Letterman and MTV recently sliced the gunshots out of the chorus to MIA's "Paper Planes," MIA was pissed. Corporate types — so out of touch. But hey, the flap also generated mad publicity for Kala, MIA's second album and a legit contender for top spot honors, so while her song was legitimately fucked with by the suits, it was also a case of controversy firing the publicity generator. Everyone is manipulating everyone.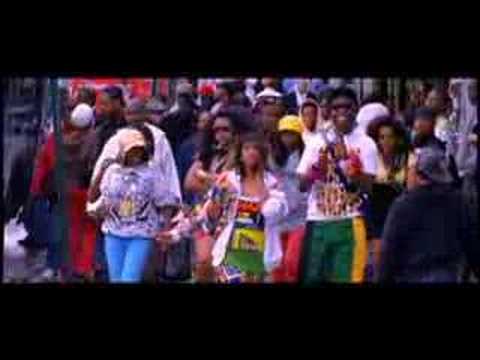 The clip for "Paper Planes" was filmed in Brooklyn, and features a lot of MIA and her crew looking fly in the midst of the urban, multi-ethnic hustle and bustle. Ad-Rock and Mike D argue with MIA over what her food stand charges for hero sandwiches. Its star, appropriately, always looks like the product of her frequent flyer miles. Spray-painted spandex she might have made herself, trinkets from street corners in Liberia, high fashion leopard skin knockoffs, and balling moves copped from 50 Cent. Here's another quote from MIA's MySpace blog, one that illustrates her media-addled, million points of light worldview.
"STRAIGHT AFTER TMBARLAND AND TIMBERLAKE SIDE I WANTED TO GO TO HUNGERLAND AND….NO TIMBER HOUSE BY THE LAKE LIKE." — Johnny Loftus
[tags]MIA, Paper Planes, MTV, David Letterman, Kala, Mike D., Ad-Rock[/tags]
Comments