Posted by: Johnny Loftus on December 21, 2007 at 1:00 pm

Sweeney Todd (Tim Burton, 2007)
Tim Burton does love a bloody Christmas, venturing this time into gothic musical territory, where he carves his name into Sweeney Todd. In it, Johnny Depp's demon barber aims to avenge the loss of his wife and child to evil Judge Turpin. Soon enough, the sky is raining blood – the thick pulpy sort favored by filmmakers like Dario Argento – and there are fingers popping out of Mrs. Lovett's coveted meat pies.
The story, swept forward in Stephen Sondheim's songs, has it all: a young maiden trapped in a tower, cavernous cobblestone streets, and sliced throats galore. And a rag dollish Helena Bonham Carter bustles about with her carving knife, scheming to fill her pastries with the meat of a priest, a poet or a pauper.
Burton's camera soars above rooftops and then, taking a cue from Nosferatu, frames its victims from below. Duets are sung to reflections in cracked mirrors. While it's hard to imagine Edward Scissorhands belting these songs out on Broadway, Depp does just fine within the boundaries of his careful English accent.
As the body count rises, so does the suspense, and Burton's dusty gray and amber landscape gives way to both gore and gallows humor. Not since Hitchcock's Rope has a trunk made such a fine hiding place for the recently deceased, and the unwitting cannibalism on display boils forth Soylent Green in the brain. For all this, the bloody brilliant twists and more, Sweeney Todd provides a primal escape from tired holiday fodder. Just don't order any popcorn. — Ava Dial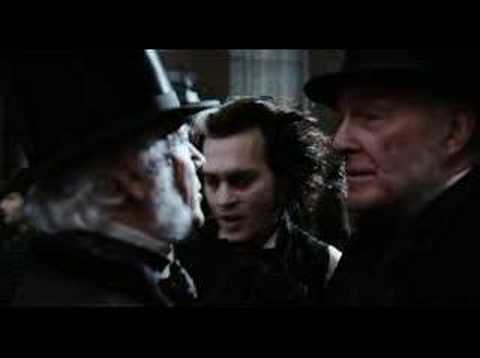 [tags]Sweeney Todd, Tim Burton, Johnny Depp, Helena Bonham Carter[/tags]
Comments